Black and white, limited edition Judge Dredd with his Lawmaster bike? That sounds like an SDCC that's gonna sell out fast.
Justice… in black and white
The greatest Judge ever to patrol the man streets of post-apocalyptic Mega City One, Dredd is ready to roll out in this set. Cast in black and white as a tribute to the original comics from Rebellion (they were all b&w), this Dredd and Lawmaster set is otherwise blissfully One:12 in nature.
And that means that it'll have ridiculous amounts of detail and articulation. That also means that that Lawmaster bike will have all the bells and whistles. Free-rolling tires, a catalog of five different sound effects, light-up features… everything a street judge could need.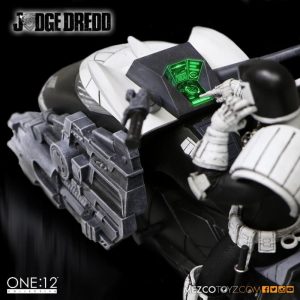 The detail you expect from the One:12 Collection
The One:12 Collective Judge Dredd features:

Iconic helmet with translucent visor
Real leather-like fabric uniform
Equipment belt with working compartments for grenades and ammo magazine
Boots with holster and knife sheath
Boot knife
Handcuffs
Lawgiver pistol
Lawgiver ammo magazine
Daystick
Two (2) grenades
One (1) set of handlebar holding hands
One (1) set of fists
One (1) gun/holding hand
One (1) open hand
One (1) pointing hand
One (1) choking hand
Display base and posing post

The One:12 Collective Lawmaster features:

3 separate FX activated twin front guns with lights and sounds (cannon, machine gun and grenade launcher)
2 FX activated motor sounds (start up/rev and motor wind out/gear change)
Backlit Synitron GK13 onboard computer display
4 real working headlights
3 real working taillights
1 real working spot-light
Real rubber-slick "bulletproof" tires
Handcuff storage pod
Free-rolling wheels
Turning handle bars
That's what you'll get in this exclusive set, found only at Mezco's SDCC booth (#3445). If you're a big Dredd fan, I can't imagine it's not worth hunting down. I mean, being perfectly honest here, it's freaking awesome. I say that partly because I'm a sucker for the b&w styling, but this is cool no matter how you slice it. And I'm not even all that big of a Dredd fan.
If you do want one of these bad boys, you're gonna have to get to the booth early. Standard SDCC rules apply here as Dredd and his bike are going to be limited to a staggeringly small 50 pieces. So as soon as the doors open up to the show, get to that booth and grab yours.
As for the price point, it's actually not that bad. The set will cost you $250.00 USD.