Get ready for some sleepless nights as Daydreamer finally, kind of, arrives on consoles. On July 12th, the Roland Studios developed game lands on the PS4 for its full release. Unfortunately, Xbox One owners must search elsewhere to satisfy their 2-D horror needs since Daydreamer is officially PS4 console exclusive. The game will be published by Atlus.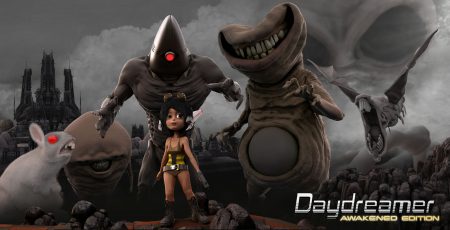 A platformer/shoot 'em up set in H.P. Lovecraft's wet dream, Daydreamer sees the player face off against grotesque mutants, sadistic aliens and rabbits. Filling in the shoes of the last surviving human, the goal of the game is to make it to the Earth's core will avoiding the probing grip of the alien overlords.
Previously released on PC, Awakened Edition refines and updates the gameplay, offering (presumably) the ultimate version of the release. Atlus shall make it available on the PSN store in the Americas, Asia and Europe for $9.99.
Atlus impressive track record includes the Persona and Shin Megami Tensei series, Catherine and publishing Demon's Souls.