For me, a great skateboarding game needs to have strong mechanics and simple gameplay. In that respect, Skateboard Party 3 is the best I have played in years, regardless of platform. In the real world, this skateboarding game can easily get into a satisfactory ScooterAdviser approved level of review.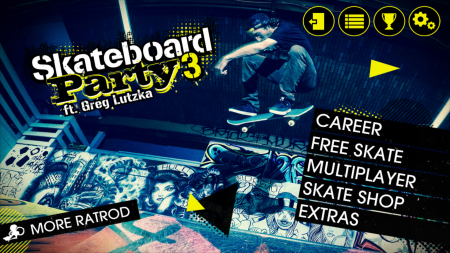 The most important thing to talk about for Skateboard Party 3 is the actual gameplay. Four commands are mapped to sections of the touch screen and movement is controlled by a circular input on the other side of the screen. The game makes mention during loading screens that it supports "most" controllers, but I honestly did not have a problem with the touch controls. I never felt the need for stronger or more cohesive controls.
The controls do take a few minutes to get used to however, but thanks to a comprehensive tutorial, I never felt confused about how to do a trick. One instance where this wasn't the case though, was in reference to manuals.
Players are supposed to double tap up or down on the movement control while in the air for this trick. But as a veteran of the Tony Hawk franchise, I kept holding the input down. This caused me to fail the trick repeatedly. Once that clicked, though, the entire game felt great.
In terms of modes, the game offers plenty. You can progress through stages in a career mode, play indefinitely on one stage in free skate, play online or with friends in multiplayer, and view screenshots.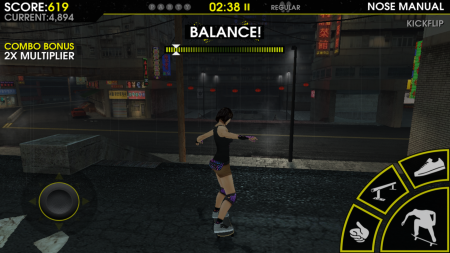 Everything is pretty self explanatory. Campaign feels exactly like an old school Tony Hawk game. After picking your skater, you pick a board and head to one of eight locations, in order, and complete objectives. After completing enough objectives, you move on to the next stage. The objectives are never crazy hard or anything, are always attainable, and even fun.
Player customization is a huge part of Skateboard Party 3. Through playing, players earn experience. This can be used to unlock new skaters, additional board options, and stat increases for unlocked skaters. From what I played, the experience came in at a strong rate.
This is important to mention because, to no surprise, you can purchase experience for real-world money. In my time with the game, I didn't feel the need to do this, but it would make progression a lot easier and quicker if you wanted to pursue that avenue.
Being an android game, it feels as though something has to give. In Skateboard Part 3's case, its the graphics. It looks and feels like a Nintendo 64 era Tony Hawk game. But because it is on android, it doesn't look bad in the way it would if it were on a Playstation 4.
The art style is not inspired in any way either, and I never felt as though I was looking at appealing artwork. The game's visuals look only passable. On the plus side, I didn't notice any screen glitching or tearing while I played. So there's that.
Audio design however, is another area where the game is well designed. Skateboard Party 3 has a strong soundtrack. And again, it's very reminiscent of days hearkening back to Tony Hawk on the Playstation and Nintendo 64. I did not find myself wanting anything else other than what was provided from the developers in terms of audio.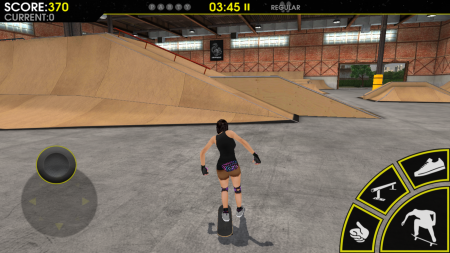 Sick
Gameplay - 90%
Visual Presentation - 70%
Audio Design - 80%
80
%
Something to appease skateboard game fans of old
Skateboard Party 3 uses simple gameplay and memorable feeling modes to feel as though I am playing a great game from the 90's on my phone. The lacking art design is the lowest point for the game.