Episodic TV meets video games with Remedy's Quantum Break, and we had the chance to sit down with one of the stars – Jacqueline Piñol.
The newest release from Remedy Entertainment, Quantum Break, is a vast undertaking mixing a live action 'TV' with interactive gaming. Now, this idea is not new to the video game scene, as other games have taken advantage of full-motion video technology. But with Remedy, they have decided to turn it up a notch and make a fully interactive parternship between the video game and a live action series.
Remedy teamed up with Microsoft and Lifeboat Productions to create the live action scenes set throughout the game. Players control the game's protagonist Jack Joyce, played by actor Shawn Ashmore, as he tries to unravel the mysteries surrounding the game's antognist, Paul Serene ( who's played by Aidan Gillen).
For Quantum Break, the characters in the show are the same as they are in the video game, with all the digital characters modeled after the real-world actors. One character in particular was gracious enough to provide BrutalGamer with her time, and talk with us about her experience working on Quantum Break as Dr. Sofia Amaral, a doctor that helps Gillen's Serene.
So please say hello to the uber talented Jacqueline Piñol.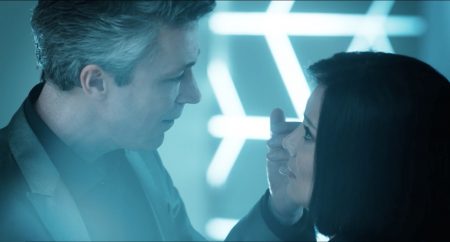 Piñol started her career in voice acting because she can speak five languages, and landed several radio commercials because she could speak both English and Spanish. "I could speak Spanish and English and it was easier for clients to hire one actor (actress) instead of hiring two to read the same commercial," Piñol said.
She moved onto cartoons and some Spanish series and then landed into the land of video games about five years ago. "It is a whole new world with a lot of available work," Piñol said.
Piñol's adventure with Quantum Break started when her agent sent her to an audition. She knew nothing about the project, except that it was for a video game and there was going to be some motion capture involved. Piñol was told to prepare as though this was a real audition.
"For the audition itself, it was like a film. They said to come in and prepare it like a real on-camera audition," Piñol said. This was not normal for a video game. "For video games, they usually just send you material that you are record either at home and send in a high quality MP3 or you come in and record in the studio. For this, it was an actual live audition and I was sold from the beginning. The material was really smart and the character had an arc," Piñol said.
Piñol did not hear back from Lifeboat Productions for almost two months and had started to worry she had not been casted as Dr. Amaral. Then she received a call back for a chemistry read.
Once Piñol made it to the chemistry read, she was hooked. "It was at the chemistry read that everything just gelled. Because the director was really into it. He was so involved and cared so much about the project," Piñol said. Early from the beginning of the project, the enthusiasm was high and infectious. The entire cast and crew had bought into this project. Although no one was entirely sure what this project would grow to become.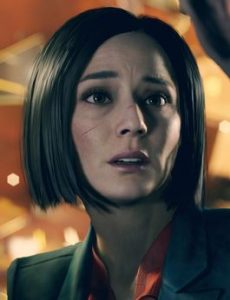 Piñol worked on Quantum Break for two years. Traveling to London, Finland, Los Angeles, and Atlanta. New technology was being used to create these motion capture scenes. Though Quantum Break was written as a mystery.
This meant the whole cast had to stay silent about the process. "We could not say anything. We could not post on social media any pictures of us with the equipment. We could not do anything. We weren't allowed to share or post to social media," Piñol said.
She began the process with the motion capture and about a year later, they moved onto the live action. She had to match the live action scenes to some scenes in the video game.
The production group was meticulous when it came to the details. A game of this size developed by a AAA developer and produced by Microsoft is going to make sure every detail is correct. "My hair had grown by then. It was so cool how much they cared about every detail. So when they did the live action, everything had to match," Piñol said.
The actual process of facial motion capturing was physically exhausting. The acting team had to wear giant camera equipment on their heads. This equipment was then strapped onto the person's chest.
The equipment was a bit awkward, as described by Piñol. "You know those hats with the straws in the beer cans, sort of like that but instead it is camera equipment." All this extra weight led to some sore shoulders and headaches. It was also new. To everyone it was. Even the guys who handled the equipment," Piñol said.
A whole team of developers and engineers would be at the motion capture scenes. "It was like living in the sci-fi world. They taught us all the movements. They brought in a special stunt performer for some of the scenes," Piñol said.
Piñol was on set for three of the six weeks. Her experience with the other actors was amazing. "Lance Reddick and Aiden Gillan are such down to earth actors, even Sean, and they were just as excited," Piñol said. This again, was unusual for a video game production.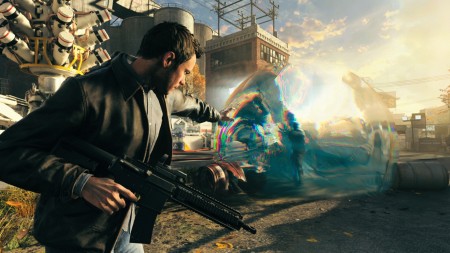 Most times, Piñol would just record her lines and then move on from the project. It was every single person's commitment to the game that made the filming such a success. "We were all rehearsing our lines together. You don't get to do that a lot with video games because you don't have to," Piñol said.
In Quantum Break, players will be making a lot of decisions. This leads to a lot of different storylines, each with its unique take on the storyline of the game. And working in all these mechanics was a huge undertaking.
After years in development and in production, Piñol is extremely proud and excited with the finished product. "I think the players will really enjoy some of the outcomes and some of the possibilities because they get to be a part of story," Piñol said.
Players will get to experience a unique and immersive story. As this new type of gameplay continues to build up steam, players should get ready for more games which are similar to Quantum Break. For new gamers, this experience may be their first. This allows for people who may not normally play games to get involved with this experience. "I think it is going to bring in people who are not gamers who want to get into it, like myself," Piñol said.
"The way the women characters are written in this game is pretty unique. They are integral part of the story and not just your typical arm piece of bombshell. They are smart, sexy, and physically capable women," Piñol said.
I'd like to thank Ms. Piñol again for taking the time to talk with us! You can find more of her work on the TV series Bordertown, which airs on Fox Sunday nights, and make sure to check out Quantum Break, currently available at any major retailer or online shop for the Xbox One and the (Windows) PC.