The Nintendo eShop sees a crowded week for the first time in a long time as SNES games hit the New 3DS, the Wii U sees Yoshi's Story, and 3DS port Hyrule Warriors Legends releases.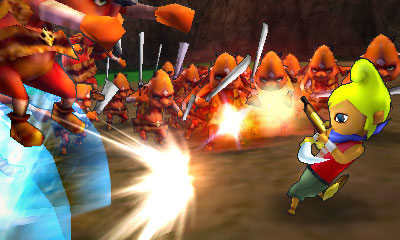 The Legend of Zelda's spin-off Hyrule Warriors' handheld port releases this week, and while it's not recommended for the original 3DS, it is playable on all iterations of the hardware.  The new content will be transferable to the Wii U version, if you own both, so fans of Tetra and King Daphnes (and Windwaker in general) will be able to enjoy them in HD glory.  A new DLC season will also be available for the title, downloadable for both versions.
The New 3DS also sees Donkey Kong Country, Super Mario Kart, and EarthBound as part of the new SNES line-up for the system.  The Wii U VC, meanwhile, sees N64's Yoshi's Story, and players will be able to revisit the story-book world.  The Wii U also sees the release of Shantae: Risky's Revenge- Director's Cut, a remake that includes HD illustrations, a Magic Mode Costume, and a convenient sounding new Warp System.
From Nintendo:
This week's Nintendo Download includes the following featured content:
Nintendo eShop sales:
New DLC:
Fire Emblem Fates – New DLC Map – Hidden Truths (1 and 2) – The secret prologue to the world of the Fire Emblem Fates games, this two-map set is now available to download in the game for only $4.49.
Fire Emblem Fates – Map Pack 1 – As a reminder, anyone who owns either Fire Emblem Fates: Birthright or Fire Emblem Fates: Conquest can purchase Map Pack 1 in-game at Dragon's Gate for $17.99 to get access to 11 DLC maps plus bonus content as it is released weekly through April 21. Map Pack 1 content is priced at more than $24 when purchased individually.
Activities:
Mini Mario & Friends amiibo Challenge – For a limited time, get a download code for early access to the Mini Mario & Friends amiibo Challenge game. Just buy any amiibo figure from a participating retailer between March 25 and April 27, and you'll get early access to the game. Download this game for free on your Nintendo 3DS system or Wii U console, then tap any amiibo figure to get started. Click here: http://minimario.nintendo.com

.

National StreetPass Weekend: Spring Edition – Swing into spring with Nintendo 3DS! From March 25 to March 27, collect up to six StreetPass tags from across North America when you stop by a Nintendo Zone location with your Nintendo 3DS family system. While you're out and about, be sure to take advantage of the cool StreetPass features in many popular games. To find a Nintendo Zone near you, visit http://www.nintendo.com/3ds/nintendozone.
Also new this week: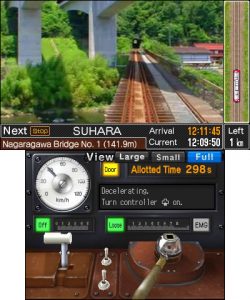 In addition to video games available at retail stores, Nintendo also offers a variety of content that people can download directly to their systems. Nintendo adds new games weekly to the Nintendo eShop on the Wii U console and the Nintendo 3DS family of systems, the Nintendo DSi™ Shop for the Nintendo DSi system and the Wii™ Shop Channel for the Wii console.
The Nintendo eShop is a cash-based service that features a wide variety of content, including new and classic games, applications and demos. Users can add money to their account balances by using a credit card or purchasing a Nintendo eShop Card at a retail store and entering the code from the card. All funds from one card must be loaded in the Nintendo eShop on either Wii U or the Nintendo 3DS family of systems, but can be used in either Nintendo eShop if the systems are linked to a single Nintendo Network account.
The Wii Shop Channel offers games and applications and uses Wii Points™, which can be purchased via the Wii Shop Channel. The Nintendo DSi Shop offers games and applications and uses Nintendo DSi Points™, which can be purchased in the Nintendo DSi Shop.
Remember that Wii U, Wii, Nintendo 3DS, Nintendo 3DS XL, Nintendo 2DS and Nintendo DSi feature parental controls that let adults manage some of the content their children can access. For more information about this and other features, visit http://www.nintendo.com/wiiu or http://www.nintendo.com/3ds.