Looking for something unique in the world of headphones for your mobile or PC gaming pleasure? Then you just might be interested in AfterShokz' Gamez.
"We've worked hard to develop the finest bone conduction audio and are thrilled to incorporate this technology into a headset for gamers who want to be immersed in their game and be aware of their surroundings," said Bruce Borenstein, CEO of AfterShokz. "Gamez also gives individuals with a hearing impairment the ability to immerse themselves in the full audio experience intended for all gamers."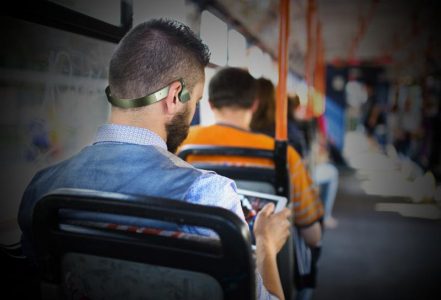 Think about that for a second. Aside from providing a real service for those with hearing issues, the Gamez sounds like one of the coolest sets of headphones that I've had the fortune of writing about. I mean, it doesn't even sit in (or over) your ears!
This wireless, lightweight headphone actually rests just in front of your ears, and touts "situational awareness, safety and comfort through its unconventional design" according to AfterShokz. And the Gamez doesn't just look to deliver awareness either, as the PremiumPitch+ technology that's built-in works to transmit clear sound from your games, music, phone conversations and whatever else through your cheekbones and directly into your inner-ears.
Yeah that's kind of crazy, but it's also pretty darn awesome. It also presents the super-cool situation of hearing your audio plain as day, which still keeping your ears completely free of impediment.
The Gamez from AfterShokz is available right now via the company's website and will run you $99.95 USD. Here's the spec list.
PremiumPitch+™ Stereo Sound: Bone conduction audio has earned its bad reputation due to a blend of natural sound leakage and weak bass. PremiumPitch+™ technology optimizes the sound and includes additional features like LeakSlayer™ technology, which ensures sound is directed exactly where it should be.
OpenFit™: A promise of uncompromised situational awareness and extended comfort due to our revolutionary open ear design. That means you can tune in to your games without tuning out the world around you.
Sweat Resistant: IP55 rated to repel sweat, moisture and dust.
Six Hours of Gaming and Calls: A single charge will reliably deliver six hours of game play and talk time. You can charge fully in 1.5 hours; a quick 15-minute charge provides enough boost to get you through a long gaming session or call.
Noise Canceling Mics: Precisely placed dual noise canceling microphones exclude surrounding noise, effectively enhancing speech when communicating with other gamers during game play.
Voice Prompts: Audrey Says™ seamlessly guide you through power, pair, play and talk, and everything in between.