One of the weirdest (and possibly most interesting) ideas in the entertainment realm to surface as of late, Hasbro's AllSpark Pictures and Paramount are about to make me massive shared universe of films.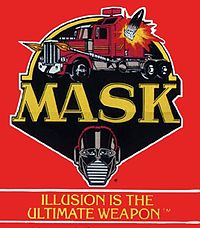 Paramount's G.I. Joe movies haven't been the most well-recieved of things, I don't think there's any arguing that. Thing is though, the first and second movies pulled in around three and four hundred million USD (globally) though, so they weren't flops either. And while that might not be record-shattering by any means, Paramount apparently sees something in the brand that they're not willing to drop just yet.
In fact, they're going to sink a heck of a lot more into it, both creatively and monetarily. This new deal, announced today, will bring a shared universe to the silver screen unlike any seen to date (or on the way). We're not talking about Marvel or DC comics here, we're not even talking Star Wars and its soon-to-be spinoffs. Nope, were talking about bringing together a bunch of completely separate brands from the '80s and forging them all into one monster of an amalgam.
G.I Joe will be joined by ROM (Space Knight!), Visionaries (the Knights of the Magical Light of course), the miniature-sized Micronauts, and the transforming vehicles and enhanced pilots of M.A.S.K. I'm probably most excited about that last one, as it was one of my favorite toy lines from my childhood, but the whole thing is interesting, and has a really great chance to doing something unique and pretty freaking cool (assuming they get the mixture 'just right').
What's going to be interesting too, is what happens to the current Joe movie timeline. Will Paramount and Hasbro just scrap it or keep it going and add in all this additional content? The films, aside from not being world-beaters, also eliminated much of what fans love about G.I. Joe in general, so it wouldn't be the end of the world if we saw a reboot to be honest.
One thing's for sure in all this, and that's that Hasbro's properties are flying high indeed as of late, with the news also breaking recent that the Transformers franchise would be expanded upon with more sequels and spinoffs, also creating a 'shared universe'. We'll have plenty more as it breaks, including a presumed slate of releases, whenever that emerges.
Source: Hollywood Reporter