December 15th at 2pm PT will bring with it salty tears and cries of joy.  Are you ready?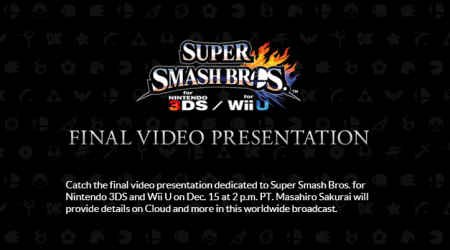 We're almost there, Smash fans.  The last moment of truth is finally upon us (if Nintendo is to be believed).
The votes are in.  Tallied.  Adhered to or ignored.  It matters not.  We'll either get an Inkling or we won't.
Are you prepared to get Shrek'd?  Are you ready for Travis Touchdown to make the cut?  Is Blaziken going to claim a spot?  Is Wolf going to reclaim a spot?
No matter what happens, we know one thing for sure: we've already got Cloud, the Final Fantasy (Theatrythm) star who has never appeared on a Nintendo console (except, you know, all those other times), opening all the floodgates.  Or not.  That remains to be seen.
On Tuesday, December 15th at 2pm PT.  Be ready to watch it live, and bring the appropriate tissue.
When the time comes, you'll know what to do with it.