The first post-Iwata Nintendo Direct presentation wasn't as eventful as Nintendo fans might've hoped, but it wasn't all that bad either.
"There's never been a better time to join in on the fun with Nintendo," said Scott Moffitt, Nintendo of America's Executive Vice President of Sales & Marketing. "From new experiences like Xenoblade Chronicles X that you can enjoy this year to re-imagined favorites like The Legend of Zelda and Pokémon coming in 2016, we have you covered with games you're sure to love."
And you know what? For the most part, Nintendo did have fans covered with some pretty nifty stuff. I have to say that I wasn't all that blown away with what was shown off here, but let's remember that the Wii U (and possibly the 3DS) are kinda-sorta on the way out to make room for Nintendo's next console the NX. And with that in mind, well, there's a ton and a half to like about what the company is doing with what it's got right now, and what's on the way.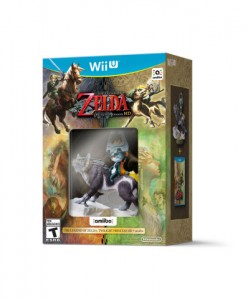 First off, let's put this to bed right now; the next Legend of Zelda title is indeed coming to the Wii U and won't be held till the NX debuts. That's a rumor that's bee flying around for a while, but Nintendo seemingly dismissed it tonight when Scott Moffit talked about the game.
There's some pretty cool features planned too, in that the Wolf Link Amiibo will be able to interact with the upcoming action/adventure title. Apparently, you'll be able to use Twilight Princess saved data with the game, which does present some interesting possibilities.
What's that you say? Twilight Princess? How am I going to get TP saved data onto the Wii U? Simple- there's an HD version of that title on the way to the Wii U in 2016 as well. We actually reported on the rumor a while back, and it turns out that it is in fact true. There's double-barreled LoZ coming to Nintendo's home console in 2016. And it won't be just the remade game hitting the shelves either, as the aforementioned Wolf Link Amiibo will be there too, and so will a Midna Amiibo. Plenty to like there.
Past those two massive titles, Nintendo also talked about  two more juggernauts with Pokken Tournament (the Pokemon fighting game) and Star Fox Zero. I'm not a Pokemon fan, but I do love Star Fox and I'm going to go out on a limb and say that both of those are going to be huge when they land next year. And really, they're even more reasons to hang onto your Wii U (or maybe look at trying to get one this Holiday).
Also mentioned for the Wii U were Super Mario Maker and Splatoon updates, Animal Crossing: Amiibo Festival, Mario Tennis: Ultra Smash, and Xenoblade Chronicles X.
As for the 3DS, well it's going to be a Pokemon-tastic time for those who love the original Pokemon Blue, Red, and Yellow for the GameBoy as all three are back as Virtual Console titles. All three will support wireless 3DS play (for swappin' Pokemon) and all three will be hitting on the same day – November 27th. You might remember that that's the date that they all originally arrived for the GameBoy, so kind of a cool little nod to the past there.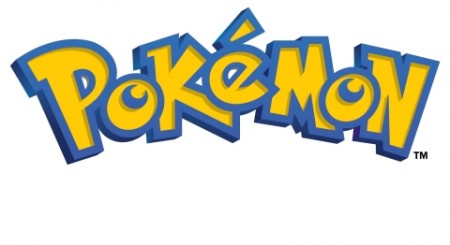 Hyrule Warriors: Legends took the stage after that, and offered a few new exclusives that the Wii U version didn't have. Hailing from the soggy land of the Wind Waker, Tetra, Toon Link, and the King of Hyrule will all be playable in the portable version of the game. On top of those three, you'll also be able to play as the nefarious Skull Kid from Majora's Mask, and Linkle…
Yes, Linkle. She's a kind of female Link (I know you didn't see that coming from the name or anything) and she comes to the game from a village that's overrun with Cuccoos. While that might not sound all that great, she actually looks pretty cool with dual crossbows and a spin kick special attack.
From there, we move onto a pair of RPG's that should make 3DS gamers happy – Fire Emblem Fates and Mario & Luigi: Paper Jam.
Fire Emblem Fates is looking like the biggest role-player to ever land on the console, with three full quests to its name. Fire Emblem Fates: Birthright and Fire Emblem Fates: Conquest represent two sides of one war, and when combined by playing through both, give you the total picture of the conflict at the center of the newest Fire Emblem adventure.
I did say three parts though, and that's because there's a third game that's playable only if you play all the way through one of the two mentioned above. That game, subtitled Revelation, will show the story from a totally different perspective and will be downloadable only. Look for that down the road at some point, post-release.
A little less heavy and dramatic is Mario & Luigi: Paper Jam. In this new M&L title, the Bros team up with Paper Mario. Yes, apparently Paper Mario hails from a universe that's not all that far away from the Mushroom Kingdom we all know and love and teams with the standard Mario & Luigi versions of the plumbers for a little Koopa-stomping.
The game looks terrific and presents a bunch of new elements into the series, as you'll be able to use not only the traditional attacks that you've come to expect, but also the paper-based stuff that Paper Mario can pull off – and that includes squeezing through tight spots (he's 2D remember?) and making papercraft war machines. Yes, that's a thing that I just typed.
Final Fantasy was also present for the Nintendo handheld with Final Fantasy Explorers.Previously released in Japan, this western version of the game will feature all the DLC from that earlier release and let you dress your characters up as classic Final Fantasy characters from some of the biggest games in the series.
And much like with the Wii U, Mr. Moffit also ran down a few other 3DS titles like Pokemon Super Mystery Dungeon, the Nintendo Badge Arcade (which is out now), Pokemon Picross, and a pair of new Dragon Quest titles.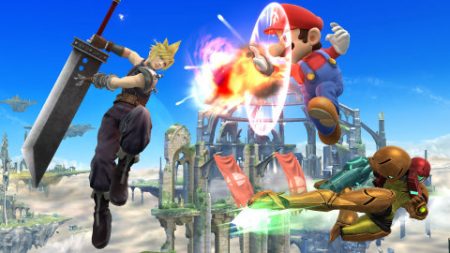 And after all that was said and done, and I do mean all that, we got one more thing to send us on our way and close out the latest Nintendo Direct – Cloud Strife from Final Fantasy VII is coming to Super Smash Bros. You read that right, one of the best-loved FF characters of all time will be fighting it out alongside Mario, Link, Samus and all the rest of the Smash Bros cast.
So those are the highlights from the presentation, but there was actually a ton more, so scroll on down to see the rest of the games shown off. It was a quality Nintendo Direct, and had plenty more content than I actually thought there'd be.
If you have a 3DS or Wii U (and especially if you're an RPG fan), then you've got quite a bit to look forward to this Holiday season and well into 2016. Stay Tuned too, as there's a special Smash Bros Nintendo Direct coming up next month in December. And we'll also be bringing you a detailed report on that one – start wishing for your favorite new characters… NOW.
Wii U and Nintendo 3DS
A New Challenger Approaches!: Cloud Strife, the legendary protagonist from the classic RPG game FINAL FANTASY VII, will enter the battlefield as a playable fighter in Super Smash Bros. for Wii U and Super Smash Bros. for Nintendo 3DS in the future. A special video presentation will be released in December, which will share more updates about the hit fighting games. More information is available at http://www.smashbros.com/us/dlc/.
Wii U
The Legend of Zelda: Twilight Princess HD: Originally released for Wii and Nintendo GameCube systems in 2006, The Legend of Zelda: Twilight Princess HD is a visually remastered remake of one of the most critically acclaimed games in The Legend of Zelda series. The new game launches on March 4 in a bundle with a detailed new amiibo figure modeled after the Wolf Link and Midna characters in the game. The game will also be compatible with five other The Legend of Zelda amiibo from the Super Smash Bros. series. The game's iconic soundtrack will be offered as a bonus for fans who pre-order the game from select retailers.
The Legend of Zelda for Wii U (name not final): Next year marks the 30thanniversary of The Legend of Zelda series. And with that comes The Legend of Zeldafor Wii U, the next entry in the storied franchise. During the Nintendo Direct presentation, it was revealed that certain saved data from The Legend of Zelda: Twilight Princess HD on the Wolf Link amiibo can be carried over to this new game.
New Wii U Bundle: A new Wii U Deluxe Set that includes the Wii U console and pre-installed versions of hit games Splatoon and Super Smash Bros. for Wii U launches this holiday season.
Pokkén Tournament: A collaboration between The Pokémon Company and BANDAI Namco Entertainment Inc., Pokkén Tournament is a new fighting game for Wii U that lets players use their favorite Pokémon characters to battle it out in fighting arenas. Fans who purchase a first-run version of the game at retail stores will receive a limited-edition Shadow Mewtwo amiibo card that immediately unlocks the character in the game after tapping it to the GamePad. Pokkén Tournament launches exclusively for Wii U in spring 2016 at a suggested retail price of $59.99.
Star Fox Zero: Star Fox Zero delivers a new beginning for the classic shooter series. With a unique control scheme that uses both the TV screen and the screen on the GamePad, players pilot multiple vehicles through intergalactic levels with Fox and his classic crew. The game launches exclusively for Wii U on April 22.
An Ink-redible Splatoon Update: Today at 5 p.m. PT, a free new update for Splatoonadds more than 40 pieces of new gear, including more winter items and some slick bandanas. And on Nov. 13 at 6 p.m. PT, another free new update adds a new stage called Museum d'Alfonsino. Further stages and features will be added in future updates through January. A Nintendo Treehouse Splatoon Tournament will happen in December, featuring competitive game play as well as tips for players about setting up their own tournaments. The tournament will be live streamed at http://www.youtube.com/nintendo, http://www.twitch.tv/nintendo and http://live.nintendo.com.
Super Mario Maker Powers Up Once Again: In December, a new Web portal will offer a more robust search function to find and filter levels in Super Mario Makeracross a variety of Web-enabled devices!
Animal Crossing: amiibo Festival: By tapping any of the Animal Crossing amiibo figures, players can play as that character in the game's main mode, a dynamic board game. Players can also tap in their Animal Crossing amiibo cards to play other modes like an Animal Crossing quiz. The Wii U game that includes the Isabelle and Digby amiibo figures and three amiibo cards launches on Nov. 13 at a suggested retail price of $59.99, the same day as the standalone Animal Crossing amiibo figures.
Mario Tennis: Ultra Smash: On Nov. 20, Mario Tennis: Ultra Smash launches exclusively for Wii U at a suggested price of $49.99. The game includes a fun New Super Mario Bros. power-up, the Mega Mushroom, which is featured in the over-the-top "Mega Battle Mode." Players can also select "Classic Mode" to enjoy a more traditional game of tennis. Players can compete online or together via local play, and the game is compatible with amiibo in select modes, including online matches.
Xenoblade Chronicles X: Massive RPG Xenoblade Chronicles X launches exclusively for Wii U on Dec. 4 at a suggested retail price of $59.99. For people who purchase the physical version of the game, four free high-speed data loading packs are available to download from the Nintendo eShop starting today. The data packs greatly increase the speed of loading times in the game, but are not required to play.
Nintendo 3DS
Where it all Began: The original Pokémon games – Pokémon Red Version, Pokémon Blue Version and Pokémon Yellow Version – are coming to the Nintendo eShop on Nintendo 3DS on Feb. 27, the same day that the original games first released in Japan in 1996. And there's no need to pull out those old Game Boy Game Link cables while playing. Using the wireless communication on Nintendo 3DS, players can trade Pokémon with other players.
Hyrule Warriors: Legends: Take the epic Hyrule Warriors experience on the go! Hyrule Warriors: Legends offers players the entire Hyrule Warriors game on Nintendo 3DS … but with even more content! This time, Tetra, Toon Link and the King of Hyrule from The Legend of Zelda: The Wind Waker join the Skull Kid from The Legend of Zelda: Majora's Mask on the battlefield. In addition, new character Linkle, a girl who lives in a small village filled with Cuccos and wields two crossbows, joins the large cast of playable characters. Players will be able to command multiple characters, taking direct control of them at any time, leading to new strategic options on the battlefield. Hyrule Warriors: Legends launches for Nintendo 3DS on March 25 at a suggested retail price of $39.99.
Mario & Luigi: Paper Jam: The hilarious Mario & Luigi series meets the charming Paper Mario series in the Mario & Luigi: Paper Jam game, launching exclusively for Nintendo 3DS on Jan. 22 at a suggested retail price of $39.99. Using compatible amiibo, players can create a corresponding character card in the game, which has powerful effects during battle.
Fire Emblem Fates: There are multiple adventures waiting to be experienced in Fire Emblem Fates for Nintendo 3DS. By purchasing one of the two main games at a suggested retail price of $39.99 – Fire Emblem Fates: Birthright or Fire Emblem Fates: Conquest – either at retail locations or in the Nintendo eShop starting Feb. 19, players choose to embark on a unique quest with a different story and different experiences. The decision that the player makes early in the game will dictate the game's story and difficulty. After purchasing one game, the downloadable version of the other is only $19.99 via an in-game purchase. There will even be a third downloadable version in the near future, Fire Emblem Fates: Revelation, for players who own either Fire Emblem Fates: Birthright or Fire Emblem Fates: Conquest and want to take on a new challenge and experience an alternative version of the game. For fans of the series, a special edition will be available that includes all three games, an artbook and a Nintendo 3DS XL pouch at a suggested retail price of $79.99.
The Legend of Zelda: Tri Force Heroes DLC: New free DLC is coming on Dec. 2, adding Linebeck's Uniform and Fierce Deity Armor outfits, each with unique powers, as well as the new Den of Trials with more than 30 stages to conquer. The upcoming software update also makes it more convenient to get Friendly Tokens by purchasing them from the Street Merchant once the princess' curse has been lifted. Additionally, two adjustments will ensure a more comfortable online experience: By answering a question before matchmaking, you will be matched with other players who gave similar answers, plus players who leave a game in progress through the Pause menu can be added to the blacklist.
Pokémon Super Mystery Dungeon: Players can become one of 20 Pokémon in Pokémon Super Mystery Dungeon, launching for Nintendo 3DS on Nov. 20 at a suggested retail price of $39.99. With turn-based battles and ever-changing dungeons, players can encounter every single known Pokémon in the game – all 720 of them!
Nintendo Badge Arcade: Now available in the Nintendo eShop on Nintendo 3DS, Nintendo Badge Arcade is a free-to-start game that lets players control a classic arcade-style crane machine to earn badges from popular titles to customize their Nintendo 3DS HOME menus. The game is constantly being updated with new badges, so it's always great to keep checking back!
Two DRAGON QUEST Games are Better Than One: The lineup of RPGs on Nintendo 3DS continues to grow with classic games DRAGON QUEST VII: Fragments of the Forgotten Past and DRAGON QUEST VIII: Journey of the Cursed King, both remastered for Nintendo 3DS and coming in 2016.
Pokémon Picross: The popular Picross series meets the lovable world of Pokémon when free-to-start game Pokémon Picross launches exclusively in the Nintendo eShop on Nintendo 3DS in early December.
amiibo
Jan. 22 sees the release of Lucas in the Super Smash Bros. series, amiibo figures for Resetti, Blathers, Celeste and Kicks in the Animal Crossing series, and Series 2 of the Animal Crossing amiibo cards.
Third-Party
FINAL FANTASY EXPLORERS from Square Enix, Inc. (Nintendo 3DS): In the first FINAL FANTASY action-RPG on Nintendo 3DS, players journey to an island filled with mystical crystals protected by powerful eidolons. More than 20 jobs can be learned, each with its own set of special skills. When FINAL FANTASY EXPLORERS launches exclusively for Nintendo 3DS on Jan. 26, it will include all the DLC that was previously released in Japan. Multiplayer functionality for up to four players is enabled through Nintendo 3DS local wireless communication.
Mega Man Legacy Collection from Capcom (Nintendo 3DS): Capcom's iconic Blue Bomber has been a classic part of Nintendo history since the NES days. Mega Man Legacy Collection launches for Nintendo 3DS on Feb. 23 and features faithful reproductions of the first six NES Mega Man games (Mega Man 1–6), plus new ways to experience these classics with Challenge Mode's remix stages and Museum Mode's repository of original production art. In addition, the game comes with exclusive new challenges that can be unlocked using the Mega Man amiibo. But that's not the only amiibo that can unlock these bonus challenges! A new gold-colored Mega Man amiibo figure also launches as part of the Mega Man Legacy Collection Collector's Edition.
Hive Jump from Graphite Lab (Wii U): Players shoot their way through dangerous alien infestations in Hive Jump, a frenetic run 'n' gun platformer for one to four players. Hive Jump launches in the Nintendo eShop with exclusive Wii U features in early 2016.
Kerbal Space Program from Squad (Wii U): By using the Wii U GamePad, players can take part in the complete space agency experience, from building a spaceship part by part, to mission control by flying their creation and conquering the planets and moons of the solar system. Kerbal Space Program launches in Nintendo eShop for Wii U in early 2016.
SteamWorld Heist from Image & Form (Nintendo 3DS): For a limited time, players who purchase side-scrolling, turn-based strategy shooter SteamWorld Heist in the Nintendo eShop on Nintendo 3DS when it launches this holiday season will receive an exclusive Nintendo 3DS HOME Menu theme.
FAST Racing Neo from Shin'en (Wii U): It's almost here! FAST Racing Neo, the high-octane racing game with up to eight-player online multiplayer, launches exclusively in the Nintendo eShop on Wii U in early December.
Typoman from Headup Games and Brainseed Factory (Wii U): Typoman is a puzzling platformer that tells a dark tale of heroes and monsters, where words can either be a blessing … or a curse! Using the GamePad in a unique way, players set out on an adventure to explore the incredible power of words and how they can be used to survive the environmental hazards and overcome vicious enemies. The game launches exclusively in the Nintendo eShop on Wii U on Nov. 19.
Mighty No. 9 from Deep Silver (Wii U / Nintendo 3DS): From Keiji Inafune, the creator of the Mega Man series, comes Mighty No. 9. This action side-scroller can be played solo or with two players in online co-op and competitive modes. The Wii U version of the game launches on Feb. 9, with a Nintendo 3DS version following shortly thereafter.
LEGO Marvel's Avengers from Warner Bros. Interactive Entertainment (Wii U / Nintendo 3DS): With an extensive roster of new characters to play, LEGO Marvel's Avengers features storylines and locations from six different films in the Marvel Cinematic Universe, as well as classic Avengers content seen in Marvel Comics, all retold with a unique splash of LEGO humor. The game launches for Wii U and Nintendo 3DS on Jan. 26.
Project X Zone 2 from BANDAI NAMCO Entertainment America, Inc. (Nintendo 3DS): Everyone's favorite Capcom, SEGA and BANDAI NAMCO characters are crossing over once again in Project X Zone 2. But this time Nintendo is also joining the fun by adding Chrom and Lucina from Fire Emblem Awakening and Fiora from Xenoblade Chronicles to the game. Project X Zone 2 launches exclusively for Nintendo 3DS on Feb. 16.
Terraria from 505 Games (Wii U / Nintendo 3DS): In Terraria, players explore vast fantasy worlds and wage war on hundreds of enemies and giant bosses using weapons and armor they craft themselves. They can even use the touch-screen interface on the Nintendo 3DS system or the Wii U GamePad to reach directly into the world of Terraria, fashioning elaborate and amazing structures with their fingertips. It's also possible to share the adventure with friends, with online and split-screen multiplayer for Wii U and local play for Nintendo 3DS. Hundreds of hours of entertainment await in Terraria, launching in the Nintendo eShop on Wii U and Nintendo 3DS in early 2016.
For more information about Nintendo, visit http://www.nintendo.com/.
Remember that Wii U and Nintendo 3DS feature parental controls that let adults manage the content their children can access. For more information about this and other features, visit http://www.nintendo.com/wiiu or http://www.nintendo.com/3ds.