Kammi seeks the supernatural elements in Harrow County as Emmy tries to get back to a normal life in Harrow County, but that's something that's not exactly in the cards for the young witch.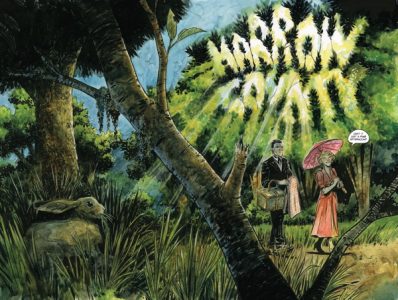 Warning: Some spoilers for this issue follow.
I've been following Harrow County from Cullen Bunn and Tyler Crook since it started, actually reviewing a few issues here on BG. It's a story that's been winding, captivating, and haunting in all the right ways, though not exactly world-shaking in it's scope… but it may get there.
After missing issue #6 I find things a little different than I had left them. Emmy, the main character, has an alternate, a woman named Kammi who is, in many ways, her mirror opposite. While Emmy has taken the inherited power that she's been infused with in as much stride as she could muster, helping people and trying to make a positive change in her world, Kammi walks a darker path.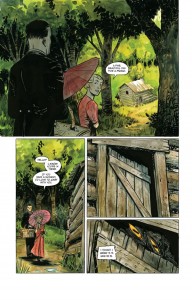 And by all that, I mean that she's pure evil.
Kammi is assembling an army, an army of the things that go bump in the night in Harrow; an army of things that Emmy has encountered already, some of which were seemingly loyal to her, and some that are not. This particular issue gets a significant visual bump of its own from all that. Monsters and creatures of darkness of all manner traipse through this book's pages from cover to cover and they all look as cool as can be.
Tyler Crook's art style is so great and absolutely shines in Harrow. His work on the book is loaded with personality, so much that even the demons are given an almost human-like quality; even the ones that are vaguely human at best.
Pairing so well with the artwork is Bunn's script, which continues to be chock full of cool ideas. It's also loaded with elements that are familiar, but also fresh and exciting, thanks to the approach that Bunn takes with his cast. Even a monster, a giant demon, has the feel of a fully-formed character- and dare I say 'heart'? That's not something that you're going to find in to many comics out there. Actually, it's not something that you'd see in any medium.
Final Thoughts
Bunn and Crook are firing on all cylinders with Harrow County.
The book is well-written, beautifully drawn, and paced wonderfully with a creepy edge to it that seems to be building even further with the revelations here in issue #7. What Kammi is doing exactly is still a mystery, but it isn't good, and that's going to set up a very interesting encounter indeed between her and Emmy – especially from the teaser art for issue #8.
Looks like we're in for a supernatural backwoods battle-royale.