Based on a cool, retro feel, the owner of only website out there that catalogs the history of candy is forging ahead with a zombie-themed line of bubblegum.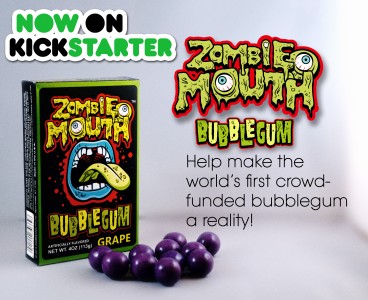 The undead and gum don't exactly seem like two things that would flow together seamlessly, but creator Jason Liebig has somehow managed to merge the two into something that looks and sounds pretty freaking awesome. Quite honestly, it should, since Liebig knows his stuff when it comes to munchable treats.
While he's got a history that includes editing none other than the X-Men over at Marvel Comics (as well as working at DC), Liebig also serves as a consultant for major period television programs like The Goldbergs and Mad Men when it comes to product placement. You know when you see a piece of candy that's specific to the 80s, sitting on the kitchen counter on The Goldbergs? Yeah, that was probably Liebig adding that little piece of nostalgia in there.
He's also made a name for himself as a historian on the subject of sweets, meaning he knows pretty much everything about candy. And that knowledge fuels Liebig's own website, CollectingCandy.com, which is loaded for bear with Halloween candy coverage right now. It's a lot of fun to read through, especially if you're memories of delicious treats goes back a ways, and it's very much worth a look.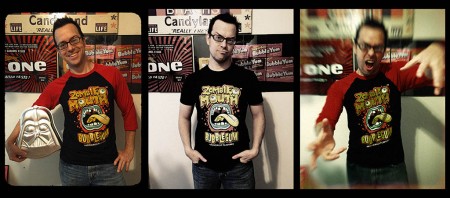 His newest project though, is especially appropriate give the time of year (Halloween being tomorrow and all). Zombie Mouth bubblegum is now available to back on Kickstarter and seeks to be "the first confection created for the ComicCon generation." It's an item that's aimed directly at Comic Con attendees and those who're deep into the pop culture zone.
And while the name is rooted in the undead, it actually comes from a birthday party of all things, one held long ago that starred a Darth Vader cake. What's the Star Wars villain have to do with zombies? Nothing at first glance, but the frosting that Liebig's mom and grandmother used to give the cake the dark black visage of Vader actually colored the mouths of the people who ate it.
That's something that Liebig started referring to as 'zombie mouth'. The name stuck for him, and helped to not only name the bubblegum line that he's proposing, but also to supply an effect that chewing the product will have. Yes, your mouth will change color- zombie mouth, as it were.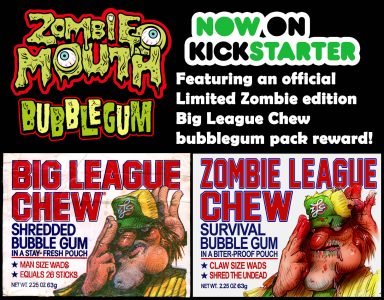 Zombie Mouth Gum plays off of classic properties and stuff from classic pop culture as well, with neat retro-graphics that you'll not only see on the packaging, but also on apparel, as well as die-cut stickers and magnets. In terms of retail product, there's a standard pack that you can scope out at the top of this article, as well as the Kickstarter-exclusive homage to the classic Big League Chew gum  above (Zombie League Chew). It comes shredded and in a pouch, just like what you remember from when you were a kid, and is limited to 1000 packs for backers only. As a pretty massive fan of BLC myself when I was younger, I'm particularly fond of that one.
If you want to get in on what Liebig is doing with the Zombie Mouth brand, you can do so here on Kickstarter. The campaign runs another five days, so if you do want to grab some of those Kickstarter rewards, I'd suggest that you click on over and hit that 'support' button sooner than later.