The fifth season of the hit Cartoon Network show lands on Blu Ray with a packed, 52 episode long set.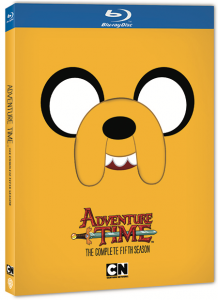 I have to admit that Adventure Time, on the whole, is more than a little alien to me. The series has escaped my viewing habits, despite being nothing short of a mega-hit for the Cartoon Network, and turning into a veritable pop culture phenomenon.
It's not like I've never seen an episode though, as I have viewed a few here and there, just not enough to ensnare me in any meaningful way. So, bottom line – I'm not what you'd call 'a fan of the property'. I think that probably gives me a fairly unique position on this set though, which encompasses season 5 of the TV show.
It is, as I said, immensely popular. So popular that it regularly pulls in 2.4 million viewers, and has even spawned a balloon in the Macy's Thanksgiving Day parade. Here in this review, won't be raving about the actual cartoon series all that much. Instead, I'll be talking about the discs themselves, and the content that they house.
First off, you get 52 episodes of the cartoon show. Yes, 52. And yes, that's a monster amount for one season. I'm not sure how that shook out for TV when it actually aired, but if you're a fan then I think it's safe to say that there's more than enough to watch (and re-watch) here for you. For the record, I watched a bunch of the episodes on the discs (they're split between two Blu Rays), and I kind of still don't 'get it'. But that's me, and I'm clearly in the minority.
That aside though, there's lots to like if you watch the show on a regular basis, and lord knows there are plenty of people who do that. There's even a special section on each disc that explores a bunch of storyboards for the episodes. It's not the whole of each show, but you get a taste for most, and can see the workings of the program and what the creative team was thinking as they worked it.
I love that kind of stuff, so that appealed to me right off the bat. The black and white 'mini-cartoons' have the dialog already recorded, but instead of being set against a completed animated backdrop, you hear the lines delivered as a sort-of slideshow plays that shows off the sketched out layout for what would eventually become each installment of Adventure Time. You could spend plenty of time in that little feature set alone.
Past that, you won't find a ton and a half of features here however. There is a short documentary that stars many of the creatives behind Adventure Time though, and it's pretty interesting stuff. In the doc, you'll hear about the history of the show, and what the team was thinking as they worked on some of the very first episodes.
They talk openly about how long they originally thought it'd last (which changed dramatically of course) and even mention how viewers react to it, both young and old. And yes, they even mention people like me who don't really know what they're looking at. It made me feel a little better.
The video and sound quality is excellent of course. But you'd expect nothing less with the show running on a Blu Ray, and that's exactly what you get here. Even the documentary looks fantastic, and is displayed in high-res. Oh, and it also has a bunch of visual oddities, much like the show that it covers. But I'll leave those to you to discover… kind of threw me off at first.
Final Thoughts
Do you dig Adventure Time? Then you're going to love what the fifth season has in store. You just can't beat 52 episodes in terms of value, and even the few extras that there are, are actually pretty cool and worth watching. Actually, even for non-fans the extras are worth a view; they're pretty interesting.
And if you are a non-fan, and are looking to get into Adventure Time, then this is a pretty solid place to start. True, with it being the fifth season, you're kind of caught in the middle of the overall story arc, but things are so completely insane in the actual show that I don't think that really matters much. Every episode kind of stands on its own.