Activision has unleashed a brand new set of songs that'll be playable in the campaign mode for the upcoming Guitar Hero Live.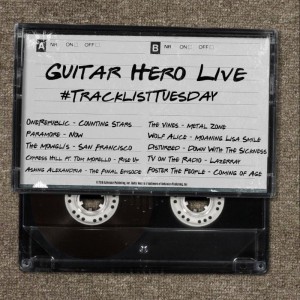 Released yesterday (it was TracklistTuesday you know), this new offering of tracks once again mixes things up, though not in terms of era. Everything here is fairly modern, with a few notable exceptions like Disturbed's Down With the Sickness which came out in the 90s if I remember correctly.
Here's your brand new list:
OneRepublic – Counting Stars
Paramore – Now
The Mowgli's – San Francisco
Cypress Hill ft. Tom Morello – Rise Up
Asking Alexandria – The Final Episode
The Vines – Metal Zone
Wolf Alice – Moaning Lisa Smile
Disturbed – Down With the Sickness
TV On The Radio – Lazerray
Foster the People – Coming of Age
As to when you'll be jamming to these tunes, you can look forward to seeing Guitar Hero Live on the shelves at retail on October 20th in the US, and on the 23rd in Europe. The franchise will be opening up its  latest tour on the Xbox One,, PS4, Xbox 360, PS3, and the Wii U, and should you pre-order the game at GameStop, then you're in for a little added treat with a 30 day trial of Pandora One on the house.
That should put a little extra rock in your roll.