Marvel's Secret Wars mini-series and its world redefining offshoots continue to roll out this week, along with more post-Convergence DC books, with shake-ups for Aquaman, Flash, and more.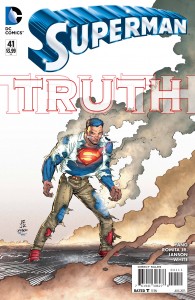 This is really turning into a pretty big time Summer for comic books from the big two especially. Although I kind of expected Secret Wars to be a big deal, I didn't see the fallout from Convergence matching it, but it kind of has. In most cases, it's been pretty terrific too. What's weird though, is that a good deal of it has nothing to do with the DC Comics event that just passed.
This week sees the release of Flash, Superman, and Aquaman #41's, all of which bring big chances to the title characters. Aquaman is now on the run (much like Green Lantern in his book) from the kingdom that is his to rightfully rule. How this came to be is something that you'll have to discover from the new arc, but with the book already being pretty great, it's a good bet that it's going to be worth reading.
Over in Flash #41 meanwhile, Zoom has returned. If you're a Flash fan of any stripe, that should be enough to get you excited to pick this one up. Green Lantern Corps also kicks off a new series with Green Lantern: The Lost Army #1, as John Stewart suddenly finds not only Hal Jordan a fugitive (it's a long story), but the entirety of the Corps missing in action.
All of the above kind of pale in comparison though, to Superman #41, which starts the Truth storyline. Although the story has already bled into other books featuring the former Man of Steel, this is where it all starts as Lois Lane blows the lid off of Superman's secret identity of Clark Kent. Not to be missed by any Super-fan as this is a MAJOR turning point for the character, and one that'll be felt for a good long time to come.
As for Marvel, well, it's Secret Wars, Secret Wars and more Secret Wars. Not that that's a bad thing mind you since SW is actually turning out to be pretty great.
Age of Ultron vs Marvel Zombies #1 hits and actually looks like a lot of fun as the flesh-munchers get fried by the unkillable robot army of Ultron. In addition to that, Infinity Gauntlet #2 arrives along with Planet Hulk #2, both of which extend the Battleworld tales of those reimagined Marvel event books.
X-Men 92 #1 arrives in physical form this week too, and shouldn't be missed out on by anyone with fond memories of the '90s cartoon series, or the classic and iconic Jim Lee-era X-Men tales. And finally, Punisher #19 ties into Secret Wars as well with Frank's last days on Earth before the big event kicked off. Steel yourself for this one as I don't think it ends well.
But while you're all wrapped up in the big two, don't miss out on Valiant Comics' Ninjak #4 this week either, as we learn the origin of Roku and Kannon. Seriously, it's an awesome book, check it out.
That's the bulk of my picks for this week, but there's more posted below that I'll be picking up today, and you can check out the full list of the week's releases by clicking here.
Marvel Comics
Age of Ultron vs Marvel Zombies #1 – see above
Infinity Gauntlet #2 – see above
Planet Hulk #2 – see above
X-Men 92 #1 – see above
Punisher #19 – see above
DC Comics
Aquaman #41 – see above
Superman #41 – see above
The Flash #41 – see above
Green Lantern: The Lost Army #1 – see above
We Are Robin #1 – The youth of Gotham have had enough and take it to the criminal element.
Deathstroke #7 – Armed by Hephaestus himself, Slade goes all Kratos and tries to take out a god.
Batgirl #41 – Barbara goes head-to-head with the new Batman (her dad).
Dark Horse Comics
Fight Club 2 #2 – Sebastian's life in the 'burbs is crashing down around him, and it's all thanks to Tyler Durden.
IDW Publishing 
G.I. Joe: A Real American Hero #215 – Snake-Eyes is dead, long live Snake-Eyes.
Transformers: More Than Meets Eye #42 – Ravage!
Transformers: Windblade Combiner Wars #4 – Post-Combiner Wars, Windblade and Starscream are in a race to recruit the lost colonies of Cybertron.
Valiant Comics