This is it folks, the last gasp for the GOG Summer Sale 2015.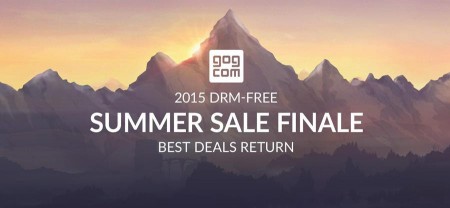 Because all good things must come to an end, but not without a little fanfare and some extra goodies, the GOG Summer Sale is officially closing up shop. The deals burn out in under 48 hours from now, but the online digital storefront is taking things out with a bang, as usual.
In effect from now till June 21st at 7:59am Eastern time, GG will have all the best bundle deals and sale prices back in, for your shopping convenience. What's that mean? Well, if you missed out on any of the most popular deals, your second chance is here.
Here are some of the big deals that are back for the end:
The Witcher 3: Wild Hunt (-10%)
Legend of Grimrock 2 (-75%)
Wasteland 2 (-60%)
Shadow run: Dragonfall – Director's Cut (-73%)
Jade Empire (-80%)
The Walking Dead Series bundle (-75%)
Lucas film Adventures bundle (-66%)
Heroes of Might & Magic Saga bundle (-75%)
Lots of good stuff, not a lot of high prices. In all, over 40 bundle deals are back and in excess of 700 games are on sale. So now's kind of the time to buy. Seriously, if you want anything, catch it now or be left out in the cold… till it actually gets cold and we have GOG's Winter Sale to look forward to.
And really, what's Summer for if not catching up on games that you missed?