Nintendo president Satoru Iwata says gamers will have to wait a while longer to set eyes on what the company's cooking up for its next console.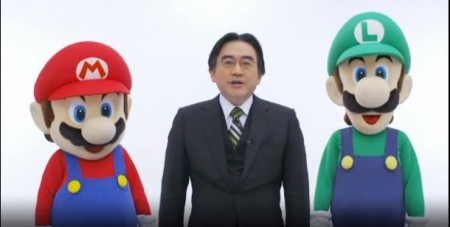 I guess there was a prevailing thought that the Nintendo NX (or whatever it's going to be called) would be at E3 in some way, shape, or form this year. It doesn't actually seem like that crazy of a thought when you consider that Nintendo's Wii U (their current baby) is still struggling mightily to get a foothold of any kind in the market. That's a fact that prompted Nintendo to say they were working on something else in the first place, and with the console taking a beating at retail, it would seem kind of logical that it might be at E3 in some way.
Well, forget that. Iwata has said that Nintendo won't be revealing anything about the NX till 2016, so you've got some more waiting to do for fresh Nintendo console news, if that's what you're looking for. He did say something interesting though, that you might be interested in hearing. Iwata went on to repeat the statement that Nintendo is calling the NX a 'new concept', and that the company isn't thinking of the console as a simple replacement for the Wii U… or the 3DS. That's kind of an odd statement, no?
I think everybody and their mother would have just assumed that the NX would be a replacement for the Wii U and nothing more. Bringing the 3DS into the equation opens up whole new line of thinking about what's on the way. Could the NX be some kind of hybrid console? Something that would allow gamers to play at home and on the go? Maybe like a Wii U GamePad that could be untethered from the console itself and roam free? Lots to think about there. No facts of any kind, but lots to consider nonetheless.
Iwata (who's name my spellcheck keeps annoyingly changing to IATA) also dashed hopes that Nintendo would be talking about smartphone gaming at E3, and said that they wouldn't be talking about any 'quality of life' platform stuff. He also said that people had been asking about the latter, but I find that personally pretty hard to believe.
Anyway, here's to E3 and some games talk from the Big N.
Source: MCV