The Elven Waywatcher makes every kill count in FatShark's upcoming Warhammer title.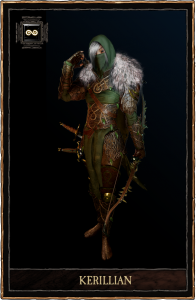 "I count every kill I make, why? The reasons are my own."

Independent developer Fatshark today released new details on the second of five playable heroes in Warhammer: End Times – Vermintide. Kerillian is an Enigmatic and sharp sighted, Waywatcher who walks the lands of men, after having left her post as a guardian of the Wood Elves ancient home Athel Loren. She now uses her exceptional skills with a bow and blade to take down anyone perceived as a threat. Kerillian regards the human race as nothing more than clueless children, and treats them accordingly, often drenching her answers to their questions in patronising sarcasm.
One angry elf is Kerillian. Then again though, you kind of have to have a chip on your shoulder if you're going up against the rising tide of Chaos and Skaven that threaten to overrun the world in Warhammer: End Times – Vermintide.
If you're a fan of medieval fantasy action, or the classic Hexen and Heretic games, then I'm thinking you have to be pretty excited for this one. Developer FatShark is crafting a first-person fantasy adventure in End Times – Vermintide, and that's not really something that we've seen too much of in the modern age. I was a huge fan of the aforementioned games back in the 90s, and the idea of a similar game, made with modern sensibilities and the Warhammer IP, just plain old makes me happy.
It's still a ways off though, which is something of a bummer as there's no release date as of yet. Stay tuned though, we'll have more on Warhammer: End Times – Vermintide as soon as we know something worth sharing. In the meantime, click on over to the dev blog for the game to learn more about Kerillian, her kind, and the themes behind the Vermintide.