Another big week at comic and specialty stores from Diamond Select Toys, as some very cool toys and that long-awaited Mr. Fusion prop from Back to the Future arrive.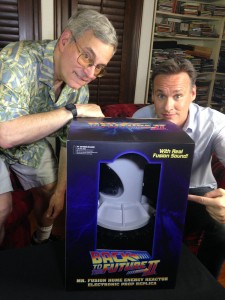 Seriously, this thing's been in the offing for a good long time, but it's finally here as one of the biggest (and most iconic) props to have ever surfaced from the classic Back to the Future film franchise. What's a DeLorean without a Mr. Fusion to make some power out of garbage after all. Welcome to 2015.
Also out this week are the X-Men vs Freedom Force Minimate 2 packs. These packs feature pretty much the whole X-Men team from that late-80s time period (I think, it was a long time ago okay?!), and four members of Freedom Force, which is actually the Brotherhood.
The coolest thing about these sets though, are that three of them come with alternate parts to make an additional three X-Men. That way you can have a full roster of yellow and blue-hued X-Men on your desktop. And really, what's better than that?
Scroll down for the full listing of what's on sale this week from DST, then make your way down to your local comics shop.