Ever want to play a Tekken-infused Galaga?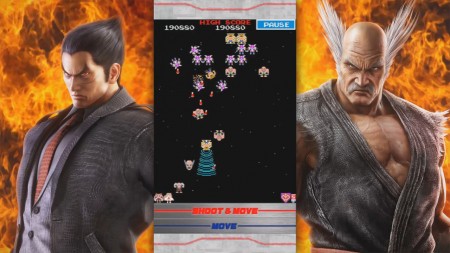 Well, even if the thought never crossed your mind for a Tekken/Galaga crossover, Bandai Namco has you covered with this new special edition of the classic shooter. And seeing as it's free, there's really no reason not to play no wis there?
"TEKKEN is one of our longest running franchises and has enjoyed a strong fan following for two decades," said Katsuhiro Harada, Game Director and Chief Producer of the TEKKEN series at BANDAI NAMCO Entertainment Inc. "With Galaga: TEKKEN 20TH Anniversary Edition, we wanted to give our fans something unexpected to celebrate such a huge milestone for TEKKEN. The crossover gameplay is sure to surprise and delight both TEKKEN and Galaga fans."
Actually really neat looking, the new Galaga title has Tekken characters in the place of the spaceships used to fight off the alien invaders. You can even use the fighting game's 'tag' feature here to tag in another character as an additional spaceship and double up on your damage. and on top of all that classic Tekken fun, the games special attacks will figure in other Bandai Namco properties as a nifty little surprise for fans.
Galaga: TEKKEN 20TH Anniversary Edition is available right now as a free download for both iOS and Android devices.