After a little break, Comic Shop Picks is back as DC's big Convergence event heats up and some big new releases hit across the industry.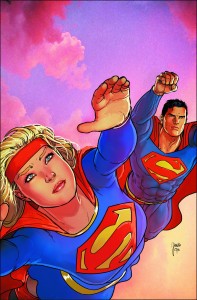 There are some great books hitting stores this week, that's for sure, and right across the whole industry. But even so, DC is pretty clearly taking center stage as their Convergence event is just about line-wide and showcasing some monster characters. Green Lantern, Flash, Hawkman, Superman, and Batman al get #1 issues this week, with interesting twists and unique takes on some of the more popular legacies.
Convergence #3 hits this week too, and brings a little more pain and suffering to the heroes of Earth-2. DC is promising a "brutal casualty" in this issue, as well las a little time-traveling courtesy of Rip Hunter (who'll be getting some TV time in the DC TV Universe sometime soon). All of the above are kind of can't miss books if you're a big DC fan or are following along with the publisher's Summer crossover. Also worth mentioning, is that some of these comics bring back some of the most beloved aspects of DC's pre-Flashpoint universe, so if you like DC legacy stuff…
That's the biggest set of stuff for the week, but if you're waiting for Marvel's Secret Wars there are some books for you as well. Plenty more too, even it the big two are outside your area of interest. Read on for more of my picks for this week, and as always, click here for the full list on Previews page.
Marvel Comics
All-New X-Men #40 – A brand new arc debuts here, with the introduction of the mysterious Utopians.
Amazing X-Men #19 – Juggernaut vs Colossus. 'Nuff said.
Hulk #15 – Hulk vs Red Hulk. Huh… 'Nuff said here too.
Star Wars #4 – Luke heads back to Tatooine, to the home of Obi-Wan.
DC Comics
Convergence #3 – see above
Convergence Adventures of Superman #1 – Crisis on Infinite Earths Superman and Supergirl try and break free from the Phantom Zone.
Convergence Batman & The Outsiders #1 – Crisis on Infinite Earths Batman and the Outsiders take on OMAC.
Convergence Flash #1 – Barry is trapped in Crisis on Infinite Earths Gotham city, and facing a Tangent Universe speedster.
Convergence Wonder Woman #1 – Diana and Steve Trevor battle a doomsday cult and the vampires of Red Rain.
Dark Horse Comics
Halo Escalation #17 – The Glass Horizon, part 1.
Tomb Raider #15 – The new arc starts up, starring the… Chupacabra?
IDW Publishing
Miami Vice Remix #2 – Crockett and Tubbs track a drug lord who's turning guys into zombies. No, really.
G.I. Joe: A Real American Hero #213 – Snake-Eyes faces threats from his past.
Valiant Comics
Ninjak #2 – Hunted by Webnet.
Divinity #3 – The former man, now god, Divinity tries to reconnect with his old life.