Available now, Diamond Select Toys' Marvel Retro Captain America Gift Set is one not to miss.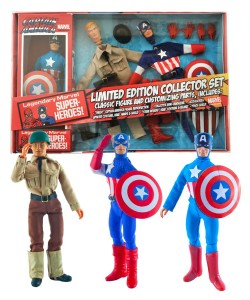 Originally announced a while back, this is the second set in the series from EMCE Toys, which already includes Spider-Man and is set to introduce Wolverine as well. The current set that's just hit though, is all Cap.
Featuring three different looks for the figure enclosed, and plenty of accessories and added parts, you'll be able to make a classic 'Mego-looking' Cap, a Steve Rogers soldier from WWII, or a modern look Cap. Given that there are so many included pieces too, you could always mix and match as well and make your own version of America's favorite super-soldier.
The packaging is collector-friendly as well, meaning that you can remove the pieces and display one figure (and all his stuff if you like) and still keep the box in one piece for future storage or as a backdrop for the toy. That's always a welcome thing, and not all that common.
Here's what's in the box:
Retro-style "Mego" Captain America figure in repro box
Army uniform
Steve Rogers head
more detailed bodysuit
more detailed masked head
round shield with sticker
round painted shield
triangular shield
helmet
three sets of gloved hands
two sets of boots
a booklet on the history of Captain America and his toys!