There are some events coming. Big, BIG events that will reshape the Marvel and DC universes in massive ways. But while the big two get ready for them and more, a giant 80s property returns compliments of IDW.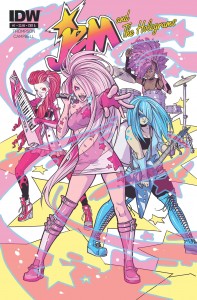 Lets kick things off with the big Marvel books in stores today, because there's some pretty neat stuff happening. For starters, Amazing X-Men #18 finally debuts the new Juggernaut, and he's a doozy. There's still question though, as to what's happened to Cain Marko, the Juggy that we all know and love, so make suer you check this one out if you're an X-fan.
Also in the Marvel U, Nova #28 sees Sam end up with the Black Vortex and go on the run from pretty much everybody, in a story that could turn out to be a major one with cosmic consequences. Speaking of consequences, Nightcrawler comes to a close this week with issue 12, as Kurt tries to finish his 'mission' on Earth. And then there's Deadpool, who inches ever closer to his finale with issue #44 with a guest appearance from Omega Red.
All of those are major happenings in Marvel, and DC has an even bigger feel to it as several big arcs warp up. Justice League Dark comes to an end in issue #40, which sees Constantine possibly standing alone against whatever's been gunning for the team. Flash #40 is a big one too, as Barry finally escapes the Speed Force and heads back to Central City to stop Future Flash's murderous campaign.
Gotham by Midnight #5 is a can't miss this week too, especially for old school DC fans, as the Specter is finally loose and ready to serve up some divine judgement. And since we're talking cosmic,, Future's End #47 is big as well, with some apocalyptic happenings sliding the series (which is wrapping up) straight into Convergence.
While all that heavy stuff is happening in the big superhero universes though, IDW has a brand new series debuting that's somewhat more lighthearted. The return of Jem & the Holograms kicks off this week with the first issue, an issue that reintroduces fans to Jerrica Benton and her group. As someone who was more interested in M.A.S.K. and Dino Riders as a kid, I wasn't all that into Jem exactly, but there's no denying that this is a big relaunch, especially with the motion picture on the way. What's changed and what's the same? Well, we know Jem's holographic pal Synergy is still very much around. As for the rest, you'll have to pick up the first issue to find out.
So those are some of the biggest books of the week, and as always there are a few more listed for your enjoyment below. Also as always, don't forget to click here to get the full listing from Previews.
Marvel Comics
Amazing X-Men #18 – see above
Nova #28 – see above
Nightcrawler #12 – see above
Deadpool #44 – see above
Darth Vader #3 – The dark lord is on the hunt for something, and he's hired the galaxy's foremost 'raider' to find it.
DC Comics
Justice League Dark #40 – see above
Flash #40 – see above
Gotham by Midnight #5 – see above
Future's End #47 – see above
Aquaman #40 – Maelstrom continues.
Deathstroke #40 – Slade's dad is not a very nice guy.
Red Lanterns #40 – Final issue!
Sinestro #11 – The Apex League vs the Sinestro Corps.
He-Man: The Eternity War #4 – She-Ra takes on Hordak, one on one.
Dark Horse Comics
Halo: Escalation #16 – Halsey and the Covenant move to take the Forerunner artifact known as the Janus Key.
Captain Midnight #21 – Cap faces X in Arcadia as Marked for Death continues.
IDW Publishing
Jem and the Holograms #1 – see above
Miami Vice #1 – Sonny Crockett and Ricardo Tubbs are back for a five part limited series. Yes, you read that right.
Snake Eyes: Agent of Cobra #3 – Snake Eyes' and Storm Shadow's rivalry continues as both ninjas try and capture Cobra Commander's son.
Transformers: Windblade – Combiner Wars #1 – The big Transformers crossover continues in Windblade's solo debut.