It's a changing of the guard on the still relatively new Star Wars series from Marvel Comics.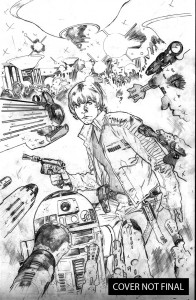 Though the writer will stay Jason Aaron (who's been doing a spectacular job by the way), John Cassaday is officially out as penciler. Cassaday released a short statement yesterday saying that he would be leaving the book as of issue #6, which left us with a lot of questions. And although most of those still are unanswered, we do now know who'll be replacing him as illustrator.
Stuart Immonen will com aboard from All-New Captain America, and will start on the flagship Star Wars title as of issue #8. Immonen is a pretty great artist in his own right and has worked on a bunch of books from both Marvel and DC Comics in the past. His style is a bit similar to the outgoing Cassaday and he should be a good fit for the Galaxy Far, Far Away. You can get an early glimpse of his proposed cover for Star Wars #8 with the image to the right.
As for the mysterious gap left with issue #7, with which there's currently no artist attached, we have no idea really. Marvel hasn't made any announcement as of yet, though we'll let you know as soon as they do.