Say your goodbye's to the Merc with a Mouth, as Deadpool is officially ending it's run with the death of the man himself next month. Maybe.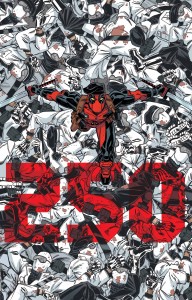 Since Deadpool really can't die, this is kind of an odd event that we're talking about here. Though Marvel found a way to off Wolverine not all that long ago, so I guess anything's possible. The issue is actually #45 of the current run by the way, but it's Wade's 250th appearance overall in the Marvel U, so that's where that numbering comes from.
The issue features a tale from Gerry Duggan, Brian Posehn and Mike Hawthorne, in which the villainous Ultimatum comes for Deadpool, and this time it's to finish him off. After the meat and potatoes, Duggan and Posehan are joined by Scott Koblish for a story that recounts the time that Deadpool came into possession of the Infinity Gauntlet. You might not remember that form Marvel history, but rest assured it happened. Or at least, it did… now.
Then rounding things out is a look back at the character, with the star-studded gallery of "Paul Scheer, Nick Giovannetti, Scott Aukerman, Ben Acker, Ben Blacker, Jason Mantzoukas, Mike Drucker and more!".
Yes, it's weird that Marvel is 'killing off' Deadpool, but it should one heck of an adios. …not that it definitely is one. Remember that Secret Wars is coming, and with it a multitude of Marvel characters from different universes and time periods. And then when that's all done, there'll be something of a 'new' Marvel U standing in place of the current one. So is the merc really done for, for good? Ehh…
Deadpool #45 hits the stands on April 8th.