It's a decent week at your LCS this first week of March. Star Wars fans should be happy about another #1 in Marvel's burgeoning sci-fi universe, and Avengers followers have yet another book to buy with another revamp for Hawkeye. Oh, and there are some strange things afoot in both big universes with an eye towards the summer events.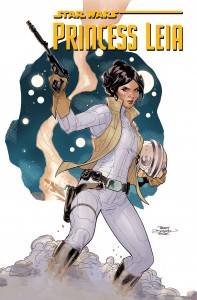 Yes, it's almost time for Secret Wars and Convergence, and it looks like there are some shakeups beginning in some of the bigger books in both Marvel and DC that could be worth your attention. Before we get into that though, lets talk about that Galaxy Far, Far Away…
Marvel is seizing on the opportunity that they have with their adoption of the Star Wars license in a big way. Instead of just one book, they've got a trio of title on on the racks as of this week;; their flagship is Star Wars of course, but then you have Darth Vader, and the brand new mini-series, Princess Leia. That latter book kicks off its run this week with a first issue that promises to explore what it means to be a princess who's got none left to rule. With her people wiped out by the Empire's Death Star (before it was destroyed in Episode IV, Leia calls the Rebel Alliance home, but it's a very different life for this natural born leader, maybe one that fits her a little better.
Also getting a #1 this week is Hawkeye with All-New Hawkeye #1. Outside of the fact that I really don't care for that 'All-New' label that Marvel has been slapping on everything for a while now, I can't really say this is one that I've been looking forward to. Hawkeyes has always screamed second-stringer to me and, although I think I'm probably in the minority here, I find him as dull a character as any other. There are plenty of people that don't though and for them this is one not to be missed, so I've included it here in my picks for the week. The book features top talent in Jeff Lemire and Ramon Perez, and a story that teams Clint with Kate Bishop once again.
Now, about that Green Lantern bit… GL has been a bad guy before (Parallax anyone?), but this time looks a bit different. I'm sure Hal isn't turning to the dark side, but he'll be up against the Templar Lanterns (including Killowog) in issue #40. An issue, by the way, that promises to be the beginning of a status quo shift that'll be affecting all the Green Lantern books, 2which also makes me wonder if that means anything for the Summer crossover, Convergence. So yeah, don't miss this one.
Directly referencing Convergence are Future's End #44, which sees Brainiac's plan finally take shape, Earth-2 World's End #22, which has Apokolips laying waste to the alternate Earth, and Earth 2 #32, which features a triumphant Darkseid. I don't normally read any of these comics, but all of 'em are heading into DC's big event book, so check them out if you're looking for a few extra titles to throw on the read pile this week.
Back over in Marvel, things are getting hairy for the Avengers in Avengers #42. It looks like there's a host of cosmic-level baddies on the way to make the day a not-so-good one for Earth's Mightiest. And this issue is also a lead-in for Secret Wars, as the cover proclaims only two more months till 'Time Runs Out'.
So those are the headliners for me this week, but there are of course a few more books that I'll be picking up at my LCS. For those, read on. If you'd just like to check out the full list of titles heading to the racks this week, click here.
Marvel Comics
Princess Leia #1 – see above
All New Hawkeye #1 – see above
Avengers #42 – see above
Spider-Woman #5 – Jessica dons a new (way more modern) costume and welcomes a brand new supporting character with Marvel mainstay Ben Urich.
DC Comics
Green Lantern #40 – see above
Earth 2 #32 – see above
Earth 2 World's End #22 – see above
Future's End #44 – see above
Harley Quinn #15 – Can a psychopath go… crazy… er? We're going to find out.
Justice League 3000 #15 – There's seriously more insane stuff in this issue than I can list here.
Dark Horse Comics
Hellboy and the B.P.R.D. 1952 #4 – Hellboy gets knocked into the sewers of Portugal only to find a whole heap of trouble (shock!)
IDW Publishing
Star Trek New Visions A Scent Of Ghosts – John Byrne's Photoplay continues in one of the most unique books you're gong to find on the racks. And it's good too!
Star Trek/Planet of the Apes #3 – The Klingons and the Gorillas move against Dr. Zaius and Ape City, but Kirk has another problem- Taylor has escaped the planet, and he's got to get him back.
Transformers #38 – The beginnings of the Combiner Wars stir here with strange alliances forming in the face of a new human threat.
Valiant Comics
X-O Manowar #34 – Dead Hand kicks off here in this all-new arc. Considering all that's come before it, this one's going to be a barn-burner.