The headline book this week is, undoubtably, Spider-Gwen. The oddly titled Spidey spin-off isn't the only thing worthy your time though, as this is a pretty beefy week all around for new comics from just about every publisher.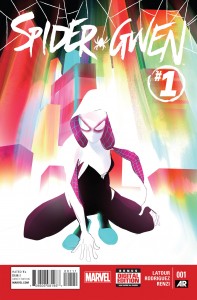 Starting with the aforementioned though, Spider-Gwen was ones of the breakout stars of the 'Spider-Verse' crossover event that is wrapping up in Marvel Comics. The character accomplished a pair of feats in that she resurrected (sort of) a beloved character from the past in Gwen Stacy, and gave readers another strong female hero. True, she isn't in the Mavel U proper, but she's got a world all her own to play in and that just might be even better. Actually, I wouldn't mind seeing a bunch of book like this; different heroes in different universes. Could be very cool.
Marvel has a bunch of their biggest books on the racks today and, Spider-Gwen aside, there's a ton to buy. Darth Vader #2 is right at the top of that list as far as I'm concerned. The second issue of this series, which kicked off with a bang last month, takes the alt view of the war in the stars even further as we go behind the Dark Lord's "mask of evil".
DC has a nice slate this week as well, with Scott Snyder and Greg Capullo's Batman #39 leading the way. This is the next-to-last installment of the Endgame arc and sees the Clown Prince of Crime reigning over a Joker-toxin-infused Gotham as it's lunatic master. And is Joker an immortal? An evil older, more powerful, and more insane, than anyone including the Dark Knight could ever have guessed? Or is it all a con- one big joke? More answers (and presumably, more questions) in this issue as we careen towards the epic finale.
I also absolutely have to get in a mention for He-Man: The Eternity War #3. This latest issue of this excellent series (really!!) brings She-Ra face-to-face with classic Horde generals Catra and Scorpia. And since they're generals, you know they've got a Horde host serving under them that Adora is going to have to slice her way through. Thankfully, she's got Swiftwind and Stratos on her side.
Also worth your cash this week (I told you there was a lot) is Snake-Eyes: Agent of Cobra #3 from IDW publishing. In this issue old plot lines are dredged up with a new twist as Snake has to locate and secure Cobra Commander's son (remember him?!). The twist? Storm Shadow is on the hunt too, and he's looking for vengeance.
There's a ton more than what I just mentioned though, so in the interest of not turning this column into a book-length epic, I'll just turn things over to the quick hit bullet points section. Oh, and as usual, if you'd like to see the full list of what's on the racks, hit this link.
Marvel Comics
Spider-Gwen #1 – see above
Darth Vader #2 – see above
All-New X-Men #38 – Chapter 4 of the Black Vortex!
Amazing Spider-Man #15 – The epilog to the epic that was Spider-Verse is here.
Daredevil #13 – The last arc of Waid and Samnee's run begins here.
Deadpool #42 – I'm not normall a Deadpool fan, but this issue's got Omega Red!
DC Comics
Batman #39 – see above
He-Man: The Eternity War #3 – see above
Aquaman #39 – Arthur's mom is back! That's not good…
Deathstroke #5 – Deathstroke vs Batman. Expect brutality.
Sinestro #10 – Sieging WarWorld didn't go all that well, and Sinestro is a prisoner of Mongul.
Dark Horse Comics
Halo: Escalation #15 – UNSC takes on what's left of the Covenant with Forerunner secrets as the prize.
Captain Midnight #20 – Cap and Helios break into prison. A Black Sky prison. Crazy-time.
IDW Publishing
Snake-Eyes: Agent of Cobra #2 – see above
TMNT: Mutanimals #1 – The first issue of they spin-off, limited series brings back the classic team.
Dynamite Comics
Holmes vs Houdini #4 – Sherlock must overcome his own demons to free a wrongly accused Houdini and find out who's really pulling the strings.
Valiant Comics
Quantum and Woody Must Die #2 – The world's worst super-team is the idol of millions? That doesn't seem right at all.