Toy-maker NECA's series of Classic Video Game Appearances for some of their movie-licensed action figures just keeps on growing. In this case, we're talking about the spectacular-looking Dog Alien from Alien 3.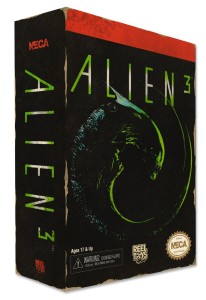 First, if you're not familiar with this line, get up to speed as fast as you can because it's one of the coolest series' that NECA produces. It's also one of the fastest growing (of the more niche lines they produce) as it's pretty constantly updated with a few new entries a year. The last one to hit store shelves was the awesome 8-bit Batman that was styled after the NES appearance of Michael Keaton's 1989 version of the Dark Knight. NECA has also announced that the City Hunter Predator from Predator 2 will be getting a figure in the series some time soon as well.
Today though, the company has announced a real dog… of a xenomorph that is. The already awesome Dog Alien figure that the company makes, and that was seen in Alien 3, sports a brand new pain scheme for its 8-bit incarnation. Half the figure is a blue color, while the other half is cast in an orangey-tan hue, and the combo comes across really neat.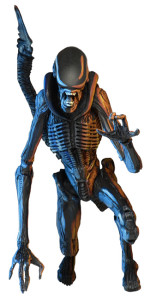 He stands in at almost 10″ tall and has the same awesome 30 points of articulation as the standard version, which I think might be a high-water mark for the line. And in case you're wondering, yes that tail is bendy and he does have the trademark inner-jaws that all the cool xeno's have these days.
The Alien 3 Dog Alien Classic Video Game Appearance figure will be on the shelves this June, in that awesome NES-styled box you see above. Click here to see more on NECA's official page for the new announcement.