The Mother of Dragons and her number one will the focus of a brand new statue from Dark Horse.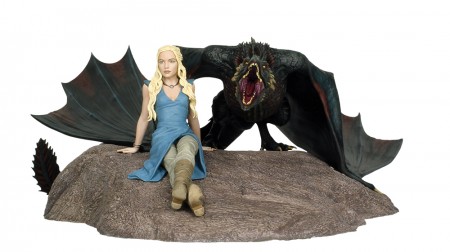 Selling out as soon as they went on sale, Dark Horse's last oversized Game of Thrones pieces were massive hits. The company is hopping to get some similar performance out of the just-announced Daenerys and Drogon statue, that'll be officially unveiled at Toy Fair next month in NYC.
"Our previous large-scale Game of Thrones statues sold out shortly after release, " said Dark Horse product development head David Scroggy. "We saw pieces like our 14" Iron Throne replica, and the Jon Snow & Ghost statue going out-of-print quickly, becoming hard to find at any price. We expect the Daenerys & Drogon statue to be just as popular and we're very excited to unveil it at Toy Fair."
Measuring 14″ across and 18″ long, this is a jumbo-sized piece of memorabilia from one of the most popular show on TV today, and a veritable media phenomenon that's pretty much become a most-talked 'event' every week that it airs. The statue will be shown off in person at the Toy Fair and will be sent off to retail sometime this coming Summer.
This is a big one in not just size, but price too, as this one'll cost you a cool $424.99 USD when it finally does arrive.