Star Wars launches into a brand new universe from Marvel Comics this week, and is the 'don't miss' title on the slate, though there's plenty more vying for your dollar as well.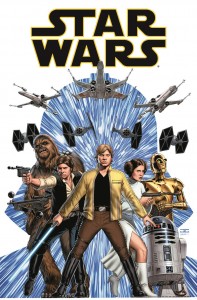 It isn't often that a franchise as big as Star Wars gets a fresh start in a medium, but that's exactly what we've got here this week. With the property's transferral from Dark Horse to Marvel, all the years of Dark Horse books have been made non-canon, meaning that Star Wars' 'expanded universe' is getting a fresh start right now in the pages of Marvel's first book on the subject. For that alone, this is a book that fans pretty much have to take a look at.
Also in the realm of stuff that you should be looking at, Dark Horse's next act in the big Fire and Stone Aliens/Predator/Prometheus crossover event lands at retail. Aliens vs Predator: Fire and Stone #4 caps things off for that part of the story and gives fans a big three way battle between Aliens, Predators, and the accelerated synth.
Over in the realm of the superheroic, Constantine #21 has Doctor Fate. DOCTOR FATE. Yep, that's right, if you missed last month's issue, the good Doctor is back in the DCU and he's teaming with Constantine. This is one worth a buy if you're into the mystical side of the DCU (or awesome heroes).
Flipping over to villains, there's a chance that we're about to see a pretty big-time Marvel baddie return to form in Amazing X-Men #15. The issue kicks off a new arc entitled "The Once and Future Juggernaut" and sees the return of the gem of Cyttorak. The gem of course, is what gives the Juggernaut his power. It's been vanished from the Marvel U, just like Juggy himself, for a while now. Since it's back though, I have to wonder if that might mean that the big guy might be making a comeback as well. Cross your fingers.
Those are my standouts for this week, and I've got a few more bulleted for you below, but if you'd like the full list head on over to Previews site here for the skinny. Happy reading!
Marvel
Star Wars #1 – see above
Amazinv X-Men #15 – see above
All-New Captain America #3 – FalCap and Nomad take on Sin, daughter of the Red Skull.
Spider-Verse #2 – Even more crazy Spidey's from across the multiverse go against Morlun.
Thanos vs Hulk #2 – Does smashing work when it's a villain as powerful as Thanos? Sure!
DC Comics
Constantine #21 – see above (Dr.Fate!!!)
Fables: The Wolf Among Us #1 – This digital-first series explores the events of Fabletown before the long-running series started.
Mortal Kombat X #1 – Another digital-first series, Mortal Kombat X is set to lead right into the events of the upcoming fighting game from NetherRealm.
New Suicide Squad #6 – Things didn't really go well for the team in China. And with Harley Quinnn taking point, they're about to get a whole lot crazier.
Dark Horse Comics
Aliens vs Predator: Fire and Stone #4 – see above
Conan/Red Sonja #1 – Sword and sorcery doesn't get too much better than Conan and Red Sonja, and here they're pitted against one another and versus a dark priest bent on global domination.
Abe Sapien #19 – Abe runs afoul of a deadly threat on the Gulf Coast.