Marvel starts off its latest push for a bunch of characters that fans may know little about, as the Inhumans star in a brand new series kicked off with Uncanny Inhumans #0.
The stoic Inhuman king, able to level mountains with a whisper has struck out on his own – seemingly leaving his Queen and his very race to fend for themselves. But is that the whole story? Now, follow his adventures as he strikes out on a new mission. A lone wolf and a king without a throne, Black Bolts endeavors will send him on a direct collision course with one of the Avengers' greatest foes – Kang the Conqueror!

With the mastery of time at his very fingertips, Kang will bend the entire 20,000 years of Inhuman history to his own vile ends. And the silent sentinel of the Inhuman Nation is all that stands in his way.
Always one of those 'background' groups in the Marvel U, the Inhumans are about to blow up in the same way as the Guardians of the Galaxy, thanks to the Marvel Cinematic Universe and their upcoming movie. Mostly associated with the Avengers and the Fantastic Four over the decades, the Inhumans have been getting pushed hard at Marvel with a big part in the Infinity crossover event and the fallout which saw a big group of humans get granted superpowers on Earth.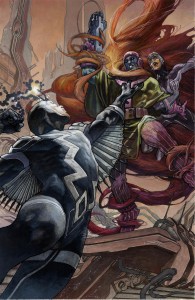 Since Marvel doesn't have use of its mutant populace for the films that come out of its own studio (Fox has that wrapped up), it makes sense that they'd like to insert a kind of 'mutant' into the MCU. Enter the Inhumans. And of course, as we're seeing in other books, the publisher is continuing to get some synchronicity going with both the on-screen and on-page Marvel U's.
Uncanny Inhumans though, actually sounds like a pretty darn cool book. For starters, it's got a mute character in the main role, which is definitely unique. You also have to like the first major villain with Kang guesting.
Writer Charles Soule also promises that this one has some twists and turns in store for readers.
"[Uncanny Inhumans] starts in one spot, and just when you think you know where it's going to go, it zigs in another direction," says series writer Charles Soule, in an interview with Marvel.com. "I like being able to take the Inhuman nation in a new direction with this series, and I think people are really going to dig it."
Uncanny Inhumans #0 starts off the run with a 0 issue this April from the team of Soule and artist Steve McNiven.