Diamond Select Toys has a full slate of releases planned for this Summer including stuff from Jay and Silent Bob, Marvel, Batman '66, and Cthulhu.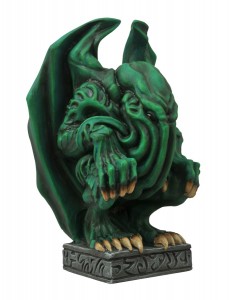 As usual, DST has a pretty wide-ranging selection of stuff on the table. Not only will comics fans be happy with that awesome Wolverine Mego-style set, but that Batman '66 cookie jar is sweet and Thor from Age of Ultron looks to be a nice addition to the Marvel Select line of action figures.
Even if you're not a comics fan, you should be able to find something to like here with the View Askew lineup and that rare Cthulhu collectible 'idol', which is also a bank. Cthulhu helping you save money? Why not… he is green after all.
Check out the list below and then start saving those dimes (if only that Cthulhu bank was out now…), as this stuff starts to hit the stores this coming Summer.
Batman Classic TV Series Logo Cookie Jar – A Diamond Select Toys release! Holy ginger snaps, Batman! The newest DST product inspired by the Batman Classic TV Series may be their most tantalizing yet! DST has taken the famous Batman TV logo and turned it into an approximately 12″ wide ceramic cookie jar – remove the inset lid at the top to fill it with cookies, treats or evidence! Comes packaged in a full-color box. (Item #JAN152173, SRP: $39.99) http://www.diamondselecttoys.com/batman-classic-tv-series-logo-cookie-jar
Cthulhu Idol Vinyl Figural Bank – A Diamond Select Toys release! Save some money for the mother of all rainy days with this vinyl bank of literary and cinematic deity Cthulhu! Originating in the fiction of H.P. Lovecraft, the octopus-faced enslaver of worlds is now an 8-inch vinyl bank. Display him on your desk or shelf to signify your devotion to the Elder Gods! WARNING: Idol possesses no supernatural properties. Comes packaged in a clear polybag. Sculpted by Eli Livingston! (Item #JAN152172,SRP $22.99) http://www.diamondselecttoys.com/hp-lovecraft-cthulhu-idol-vinyl-figural-bank
Jay & Silent Bob Strike Back Select Action Figures Series 2 – A Diamond Select Toys release! It's an all-new assortment of 7-inch action figures from the popular Kevin Smith movie, Jay and Silent Bob Strike Back!Comedy duo Jay and Silent Bob dress up like their alter egos, Bluntman and Chronic, and face off against the villainous Cock-Knocker! Each figure comes with an energy-sword weapon and part of the Bluntcave set – collect all three to re-create the famous climactic scene of the movie! Each figure comes packaged in a display-ready Select blister card, with spine artwork for shelf reference. Bluntman Figure (Item #JAN152166, SRP: $24.99) http://www.diamondselecttoys.com/jay-silent-bob-strike-back-bluntman-select-action-figure Chronic Figure (Item #JAN152167, SRP: $24.99) http://www.diamondselecttoys.com/jay-silent-bob-strike-back-chronic-select-action-figure Cock-Knocker Figure (Item #JAN152168, SRP: $24.99) http://www.diamondselecttoys.com/jay-silent-bob-strike-back-cock-knocker-select-action-figure