Available online since last month, SteelSeries' newest Apple iOS-compatible controller is now on the shelves in brick and mortar Apple stores.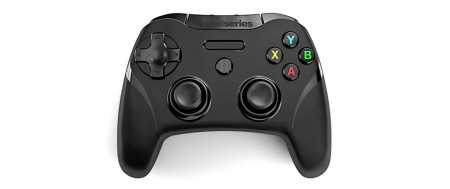 Built more like a traditional console controller than the already pretty great SteelSeries Stratus pad that was available, the SteelSeries Stratus XL is a full-fledged controller who's design mimics some of the most successful in home consoles. It's also full sized, which is something that the regular old Stratus wasn't, and that's no accident.
The original Stratus was made for a more portable experience after all, but with bigger and better games (like BioShock and Grand Theft Auto: San Andreas) now available on Apple's devices, the new Stratus XL should fit the bill nicely for those who prefer that console experience and want to play at home. And as far as this little guy looks, it seems like it hits all the high notes.
The Stratus XL features a pressure-sensitive D-Pad, two analog sticks, and four face buttons (which are also pressure-sensitive). There are also four shoulder buttons, two of which are pressure-sensitive like the others, and two that are analog. The Stratus XL pairs with iOS via bluetooth, and will give you 40 hours of play time on a pair of AA batteries, which is pretty sharp.
The SteelSeries Stratus XL is available right now and will cost you $69.99 USD.