Do you have a lot of money and a love for all things Eidos?  This might be for you, then.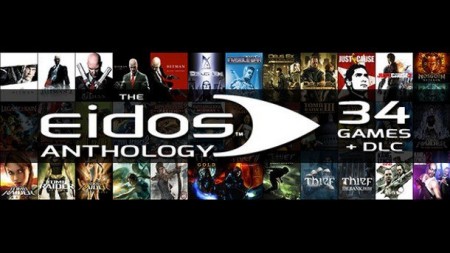 If you're a big fan of Eidos games, then Steam has something for you with the newly launched 'Eidos Anthology'.  The bundle, which will set you back $200 or £159.99, contains 34 Eidos games plus DLC to go with them.  The full list of titles available is as follows: –
Battlestations Pacific
Battlestations: Midway
Blood Omen 2: Legacy of Kain
Deus Ex: Game of the Year Edition
Deus Ex: Human Revolution Director's Cut
Deus Ex: Invisible War
Deus Ex: The Fall
Hitman 2: Silent Assassin
Hitman: Absolution
Hitman: Blood Money
Hitman: Codename 47
Hitman: Contracts
Just Cause
Just Cause 2
Kane and Lynch: Dead Men
Kane and Lynch 2: Dog Days
Lara Croft and the Guardian of Light
Legacy of Kain: Defiance
Legacy of Kain: Soul Reaver
Legacy of Kain: Soul Reaver 2
Nosgoth (closed beta access)
Thief
Thief Gold
Thief II: The Metal Age
Thief: Deadly Shadows
Tomb Raider
Tomb Raider I
Tomb Raider II
Tomb Raider III
Tomb Raider IV: The Last Revelation
Tomb Raider V: Chronicles
Tomb Raider VI: The Angel of Darkness
Tomb Raider: Legend
Tomb Raider: Anniversary
Tomb Raider: Underworld
So, if you've got a couple of hundred burning a hole in your pocket, head on over to the Steam Store and pick it up.  It will keep you busy for a very long time.