No, there's nothing 'bloody' about this specific set of Iron Man armor that makes up the latest offering from DST, but it does represent one of the more 'bleeding edge' costumes that inventor Tony Stark has ever constructed.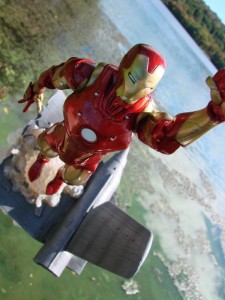 Invincible Iron Man #25 saw the dawn of the Bleeding Edge Iron Man armor, a set of armor that was and still is ridiculously advanced- even by comic book standards. The suit was actually made up of a series of nanobots that lived inside Stark himself, emerging from his pours and hardening into the suit that you see above. Sure beats a suitcase, no?
Since then of course, Tony has gone on to make up a load more armor variants to fight the forces of evil with and is just about to fire up a new one with the Superior Iron Man armor. Still though, the Bleeding Edge Iron Man armor is awfully cool, and MarvelShop.com and Diamond Select Toys have teamed to bring an action figure inspired by it to the website.
The figure is available right now (it debuted on the 13th of this month) on MarvelShop.com and features 16 points of articulation, stands in at 7″ (which is the norm for Marvel Select figures) and sports a display base that's modeled to look like he's blasting through the wing of a fighter jet. Pretty cool overall and I lobe the sculpt on the armor itself. I kind of forgot this one, but it's at the same time futuristic and reminiscent of the classic Iron Man armor that we all know and love.
As usual with these MarvelShop.com exclusives as well, Bleeding Edge Iron Man is a timed exclusive and will be appearing on DisneyStore.com and in Disney 'brick and mortar' stores starting on the 27th, which is this coming week.