Diamond Select Toys has a pair of evil new banks in stores this week to hold onto Star Wars and Godzilla fan's precious, precious change.

Funny thing about DST's banks, they really could easily be mini-busts. Case in point, this week's Darth Maul and King Ghidorah selections that are new in stores. Hailing from Star Wars: The Clone Wars and the classic Godzilla films respectively, these banks can definitely hold onto your loose change, but they'd look mighty neat on the old desktop as mini-busts too.
Each one fits right in with other releases in the lineup as well, so you can put together a whole army of legless tough-guys and beasts to stalk you while you pay bills, do paperwork, or chat on the phone. Personally, I really dig that Ghidorah one. Might just have to bite on it. Both banks are available right now and both run with an MSRP of $22.99 USD.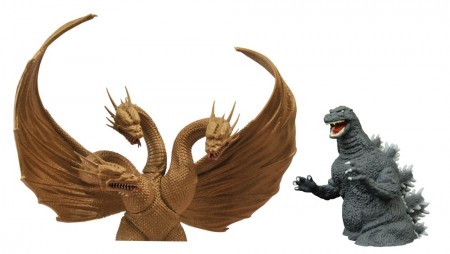 Godzilla King Ghidorah Vinyl Bust Bank – Hail to the King! Godzilla has met his match with this vinyl bust bank depicting Ghidorah, the three-headed alien monster, as he appeared in 1991's Godzilla vs. King Ghidorah. Measuring approximately 8 inches, tall, the bank has a coin slot on its back for inserting your loose change, and an access door underneath. Have him battle your Godzilla bust bank for shelf supremacy! Sculpted by Gentle Giant! (Item #Item #APR141987, SRP: $22.99) Store link: http://diamondselecttoys.com/godzilla-king-ghidorah-1991-vinyl-bust-bank
Star Wars Clone Wars Darth Maul Bust Bank – The most exciting villain in the Star Wars universe has been re-animated! Darth Maul is back in the Clone Wars universe, and now the legendary Sith apprentice is the latest bank from DST! Measuring 8 inches tall, this vinyl bust bank features collectible-quality paint and sculpting, a removable lightsaber blade, plus a coin slot for depositing your loose change! Designed by Barry Bradfield. Sculpted by Oluf Hartvigson. (Item #JAN141923, SRP: $22.99) Store link: http://www.diamondselecttoys.com/star-wars-banks-star-wars-clone-wars-darth-maul-vinyl-bust-bank