Toy-makeer Mezco has a special version of the classic Mummy, as seen in the old Universal pictures movies of the same name, ready for the New York Con.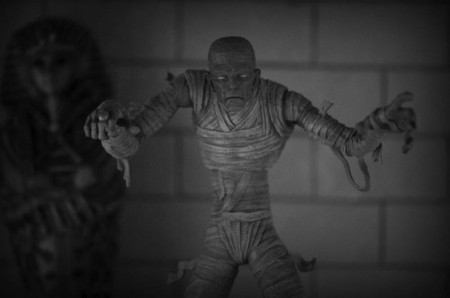 Available right now on the Mezco Toyz website (as long as they last, Imhotep is the original man from the sands of ancient Egypt, awakened by intrepid explorers, tomb raiders, and NYCC attendees. Even though he's up on the website for sale, The Mummy is one of the show exclusives for the company scheduled to appear at the NYCC this October.
This special black & white (just like in the classic films) version of Imhotep features 11 points of articulation and stands in at 9″ tall inside his full-color display box, which he's ready to pounce out of at any moment to attack unwary tomb robbers… or other action figures on your shelf. Only 250 of these bandaged-bad boys have been produced, so you might want to skip waiting for the show and get your now right here.
And if you're going to be heading to the Jacob Javits Convention Center anyway this October, then you'll have gotten a head start on your swag buys and can take a leisurely stroll through Mezco's booth on the show floor, which is scheduled to be #1855.