Lots of cool toys and just some generally neat stuff hit the September issue of comic ship mainstay, Previews magazine. There's something for everyone including bottle openers, all-new Minimates, and one awesome throwback Cap figure!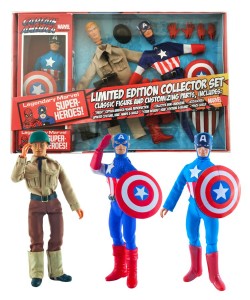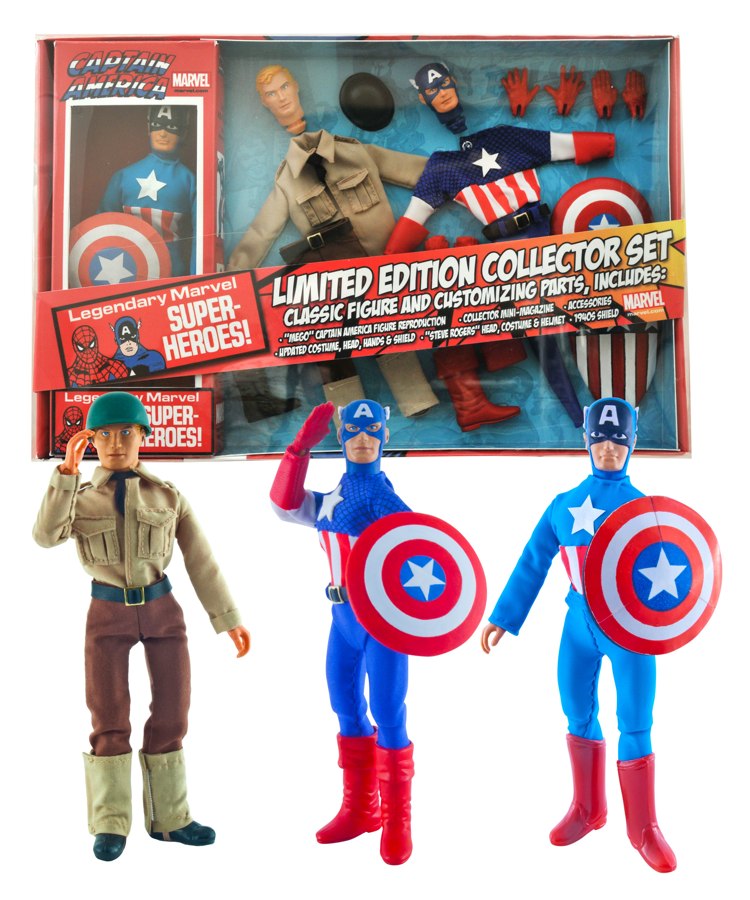 If you're into MEGO's, those superhero 'dolls' of yesteryear, then you're going to love this. DST has a special Captain America action figure box set that's a tribute to those toys from the '70s and a part of the Marvel Retro line that they've been working on.
In the box, you'll find three different versions of the Sentinel of Liberty including classic, modern, and soldier Steve Rogers, plus a bunch of accessories. Super cool stuff. While Cap would probably be my pick of the litter, the Buck Rogers and Godzill Minimates would run a close second and third. They're just so neat.
Have a look at the full list of offerings below and in the gallery and then head on down to your local comic or specialty store to pre-order something for yourself. Everything you see here is featured in the September issue of Diamond Select's Previews magazine and will be shipping sometime soon to stores.
Alien Egg with Facehugger Vinyl Money Bank
A Diamond Select Toys Release! Putting aside a nest egg? why not keep it in an actual egg? This 9-inch vinyl bank resembles an actual xenomorph egg from the Alien film quadrilogy, complete with a Facehugger alien skittering around on its outer surface. With a coin slot on the top and a door in the base, it's the perfect place to keep your loose change safe from squeamish criminals! Comes packaged in a clear polybag. Sculpted by Eli Livingston! (Item #SEP142249, SRP: $22.99)
http://www.diamondselecttoys.com/alien-egg-with-facehugger-vinyl-money-bank

Alien Facehugger Metal Bottle Opener
A Diamond Select Toys Release! There is nothing more unnerving than the site of a facehugger alien skittering towards you. Those grabbing legs and prehensile tails make them fierce opponents… and great bottle openers! Your next bottled beverage won't stand a chance once you break out your 3″ facehugger opener. Its solid metal construction will have that bottlecap off in a split second,  and the magnets on the back allow it to hang on your refrigerator door, or the nearest bulkhead, waiting for its chance to strike. Comes packaged in a full-color slipcase. (Item #SEP142250, SRP: $18.00)
http://www.diamondselecttoys.com/alien-facehugger-metal-bottle-opener

Batman Classic TV Series Batmobile Metal Bottle Opener
A Diamond Select Toys Release! What's in the glove compartment of the Batmobile? Probably things that won't fit in Batman's utility belt, like Bat-pens, Bat-straws… and this solid metal bottle opener of the Batmobile itself! Depicting the famous vehicle, as seen in the Batman Classic TV Series, this 4″ solid metal opener has magnets on the back, so it can park itself on your refrigerator door until Commissioner Gordon calls. Comes packaged in a full-color slipcase. Designed by Barry Bradfield! (Item #SEP142255, SRP: $18.00)
http://www.diamondselecttoys.com/batman-classic-tv-series-batmobile-metal-bottle-opener

Buck Rogers Minimates Series 1 Box Set
A Diamond Select Toys Release! Warp into the 25th century with the first-ever Minimates box set based on the classic Buck Rogers TV show! This box set includes four 2-inch Minimates mini-figures of Captain Buck Rogers, Colonel Wilma Deering, Princess Ardala and Tigerman, each featuring a variety of interchangeable parts and accessories. Plus, you get a bonus 1″ micro-figure of TWIKI! Re-create Season 1 of the sci-fi classic in the palm of your hand! Comes packed on a full-color blister card. Designed by Art Asylum! (Item #SEP142251, SRP: $19.99)
http://www.diamondselecttoys.com/buck-rogers-minimates-series-1-box-set

Godzilla Classic Minimates Series 2 Box Set
A Diamond Select Toys Release! The Classic Godzilla Minimates line continues, with new 2-inch mini-figures of Godzilla and his greatest foes! Series 2 includes tiny versions of Atomic Godzilla, Mechagodzilla, Jet Jaguar and Hedorah the Smog Monster, each featuring a variety of interchangeable parts. Mix and match to create your own kaiju hybrids! Comes packed on a full-color blister card. Designed by Art Asylum! (Item #SEP142253, SRP: $19.99)
http://www.diamondselecttoys.com/godzilla-classic-minimates-series-2-box-set

Kill Bill 10th Anniversary Minimates Masters of Death Box Set
A Diamond Select Toys Release! Beatrix Kiddo was not always a sword-wielding, highly skilled assassin. It took years of training, and the newest Kill Bill Minimates box set features the men who made her what she is today. Pai Mei, Hattori Hanzo and Bill himself join Beatrix Kiddo in the Masters of Death box set, each with 14 points of articulation and a variety of interchangeable parts and accessories. Comes packed on a full-color blister card. Designed by Art Asylum! (Item #SEP142252, SRP: $19.99)
http://www.diamondselecttoys.com/kill-bill-10th-anniversary-minimates-masters-of-death-box-set

Marvel Retro Captain America Limited Edition Action Figure Box Set
A Diamond Select Toys Release! The 1970s live again! The response to DST's new Marvel Retro line has been overwhelming, as fans quiver in anticipation of getting their hands on reproductions of the classic Marvel Mego figures of yesteryear. Now, DST is proud to reveal the next Marvel gift set, featuring Captain America! A reproduction of the vintage Captain America figure comes packaged inside a reproduction window box, alongside two alternate heads, two all-new costumes and a variety of accessories. Dress your vintage Cap figure up as either World War II soldier Steve Rogers or a more realistic version of Captain America! Includes both the original and classic shields, as well as a booklet on the history of Megos! Set comes packaged in a deluxe gift tray. Designed and sculpted by EMCE Toys!  (Item #SEP142256, SRP: $80.00)
http://www.diamondselecttoys.com/marvel-retro-captain-america-action-figure-gift-set

My Little Pony Friendship is Magic Rarity Vinyl Bank
A Diamond Select Toys Release! The newest line of vinyl banks from Diamond Select Toys with the fashion-forward Rarity! Joining Fluttershy and Applejack in DST's line of 7-inch vinyl banks, this rendition of Rarity is not only a beautifully sculpted and painted representation of the generous unicorn, it's also a durable vinyl bank, with a coin slot for change on the base and an access door underneath! Comes packaged in a clear polybag. (Item #SEP142257, SRP: $22.99)
http://www.diamondselecttoys.com/my-little-pony-friendship-is-magic-rarity-vinyl-bank

Star Trek TNG Borg Cube Silicone Tray
A Diamond Select Toys release! Time to assimilate some snacks! This silicone rubber mold will allow hungry Star Trek fans to cast up gelatin and chocolate in the shape of a 1.5″ Borg cube, thereby turning one of the Federation's greatest threats into a bite-size morsel of deliciousness. Or make a Borg ice cube, and keep your beverage of choice as cold as the depths of space! Refreshment is futile! Comes packaged in a full-color window box. (Item #SEP142254, SRP: $9.99)
http://www.diamondselecttoys.com/star-trek-tng-borg-cube-silicone-tray

Universal Monsters Metaluna Mutant B&W Vinyl Bust Bank
A Diamond Select Toys Release! The Metaluna Mutant is back in black (and white)! The horrific monstrosity that served a superior intelligence in the sci-fi classic This Island Earth (as well as the Mystery Science Theatre 3000 takedown) is getting the silver-screen treatment with a new, film-accurate grayscale edition of his vinyl bank! He'll still make a big impression on your shelf, with high-quality sculpting and paint details, plus his brain alone will hold several dollars in change, thanks to the coin slot on his back! Packaged in a clear polybag. (Item #APR148519, SRP: $22.99)
http://www.diamondselecttoys.com/universal-monsters-metaluna-mutant-bw-vinyl-bust-bank