If you're looking for some Transformers comics to read, this Bundle's for you.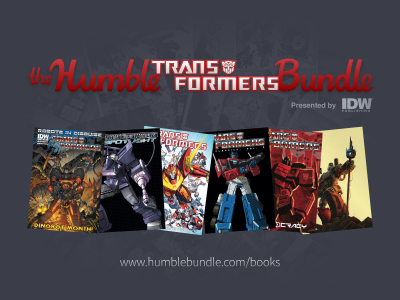 "The iconic TRANSFORMERS brand is celebrating its 30th Anniversary this year and can't think of a better way to celebrate than with this bundle offering.  Whether a new reader who wants to get in on the epic TRANSFORMERS adventure, or a long-time fan looking to round out their digital comic collection, this offering is the perfect combination of classic and current stories," said Michael Kelly, Hasbro's Director of Global Publishing. "Add the fact that a portion of the proceeds will be used to support an amazing charity like the Hasbro Children's Fund, and you've got an event Optimus Prime himself would be proud to join."

"We're very happy to collaborate with Hasbro to offer this mega selection of Transformers comics," said Jeff Webber, IDW's VP of Digital Publishing. "This bundle highlights all the facets of IDW's Transformers line – Classics from the '80s, stories from the beginnings of the IDW's stories of the TRANSFORMERS Universe, and some of the latest and greatest comics!"
A good cause and a heck of a lot of Transformers goodness. Sounds like a pretty phenomenal deal to me. I've missed out on way too many of these books from IDW, so this is as perfect a time as any to hop on board and grab a bunch for a low, low discount price. Not to mention that the proceeds can be allocated to go to the Hasbro Children's Fund.
Paying whatever you like will net you Transformers Classics, Volumes 1-4, which is awesome all by itself. Pay a bit more than the bare minimum though and you'll also get Transformers: All Hail Megatron, Vol. 1-4, Transformers: Autocracy and Transformers: Spotlight, Vol. 1. And if that's not enough bot for your buck, if you pay $15.00 USD or more, you get all of the above plus Transformers: More Than Meets the Eye, Vol. 1 and 2 and Transformers: Robots in Disguise, Vol. 1 and 2.
Over 100 Transformers comics for only $15 and helping a great cause while you're at it? Now that's a great way to kick off SDCC and a deal that's more than meets the eye. Bad jokes aside, you can get in on this awesome deal by clicking here.