A pair of new titles for mobile platforms will be playable on the show floor at SDCC this week.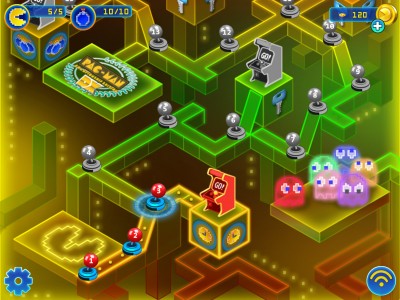 Pac-Fans take note, if you're going to be at SDCC this week in San Diego, then you're going to want to stop by the Bandai Namco booth and play some of your favorite game. One of the greatest video game characters of all time will be present and accounted for times two this week with Pac-Man Friends and Pac-Man CEDX.
PAC-MAN Friends is a new original fast-paced game using CLASSIC PAC-MAN characters! With intuitive tilt controls, players maneuver PAC-MAN through progressively challenging mazes to rescue his FRIENDS from the GHOSTS' castle! You can explore 95 increasingly challenging levels across 6 worlds and unlock 9 uniquely powered FRIENDS. Hours of light-hearted, fun adventure lie ahead! Players can also challenge their friends via social media to keep the excitement going!

PAC-MAN Championship Edition DX is the official sequel to one of the most beloved games of all time. PAC-MAN CEDX set the gaming world on fire with its critically praised and addicting gameplay. Now, all 3 original modes (Score Attack, Time Attack and Ghost Combo) are playable across 7 zones with over 150 levels of PAC- MAN action. Fun new power-ups and boosts will give you the leg up and the highest score in new, unending challenge modes. Combo ghosts, detonate bombs, collect fruit, and survive the infamous dark levels to become a PAC-MAN Champion!
Both new titles will be playable at the Bandai Namco booth on the show floor (#121), and you can pop by any time you like to go hands on. Of course, as with all things SDCC, the earlier the better to stop in as these kinds of things tend to get unwieldily in the queue department pretty fast.
Pac-Man Friends is set to arrive on mobiles this September and Bandai Namco is aiming at a November release for Pac-Man CEDX.