Marvel Comics debuts their new video series about crafting the perfect Scarlett Witch costume, capped off with an unveiling of the finished product at Comic Con.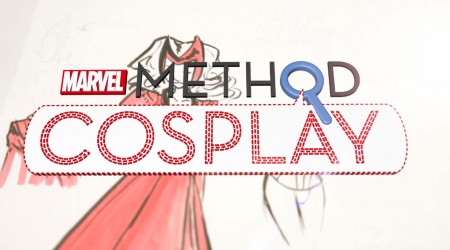 Marvel Method: Cosplay  – Episode 1: Associate Producer and Cosplay Expert, Judy Stephens approaches host and writer of Marvel's The Watcher to embark on an adventure in Cosplay to create a Marvel costume like never before to reveal at SDCC 2014. Together with professional costumer, Carly Bradt, they are using The Marvel Method: Cosplay.
Cosplay has become a part of the con 'experience' pretty much everywhere fans gather to talk about comics, sci-fi, and video games and buy stuff related to them. At San Diego Comic Con, things get amped up… just a bit. So much so that taking pictures of show-goers and dressing up yourself is a favorite activity of many.
This year, Marvel is even getting in on the act in an official capacity. Marvel Method: Cosplay sees Lorraine Cink (writer of The Watcher) and Judy Stephens teaming with cosplay pro's Carly Bradt, Katie Hondrogen, and Yaya Han to create the perfect costume. A Scarlet Witch costume to be precise. So why Wanda out of all the characters in Marvel's stable? Cink explains:
"After considering so many powerful women of the Marvel Universe, we continued to be drawn back to the Scarlet Witch", says Cink. "Her recent death in Uncanny Avengers, her upcoming appearance in Marvel's The Avengers: Age of Ultron, and her stunning redesign by John Cassaday for the Marvel NOW! initiative all played part in our ultimate decision to build her costume. However, the true linchpin for me was that Wanda Maximoff is one of the most complex, dynamic and powerful players in the Marvel Universe – who could resist the opportunity to be her for a day?"
That is true… hex powers do make a pretty tempting offer. The new series started airing last night and will have new episodes every Tuesday and Thursday till the big show. Basically, you'll get a peek into what goes into making proper cosplay attire and you'll see it step by step. This all culminates of course, in the big reveal of the final design at San Diego Comic Con. Overall, this is one of the cooler SDCC tie-in ideas I've seen and cosplaying is such a big deal at this point that the audience is there for it even with folks who might just be passively interested.
If any of the above matches your description, you can catch Marvel Method: Cosplay here on Marvel's official site or on their YouTube channel, every Tuesday and Thursday right up to the Con.