Get ready to take to the skies.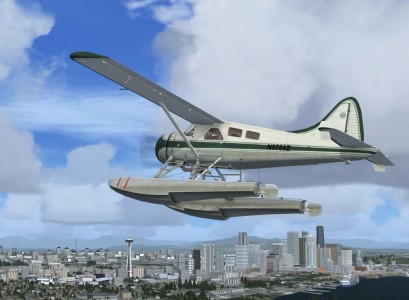 If you were a PC gamer anytime in the early days of the medium through the 90's, then you probably are all too familiar with Microsoft's Flight Simulators. Hyper realistic and made with a massive attention to detail, these 'games' were a real education for anyone who might be a little too nervous to try their hand at the real thing.
Not seen in any form since 2012's Microsoft Flight (and before that, 2006's excellent Flight Simulator X), it's been something of a dry spell for the game series. Now though Dovetail is looking to revitalize the franchise and bring a brand new title to digital download services next year.
"I am delighted to be working in partnership with Microsoft as part of this agreement," said Paul Jackson, CEO of Dovetail Games.  "We are thrilled to be exploring new flight simulation opportunities using Microsoft's technology, and look forward to using our extensive expertise of Steam publishing to successfully bring Microsoft Flight Simulator X: Steam Edition to a broad new audience on the Steam platform. This partnership is perfectly timed to support our expansion into new areas of simulation."

Steve Bainbridge, COO at Dovetail Games added, "We are very proud of the strong community we have created around the Train Simulator series of products, and we are looking forward to extending our knowledge and experience into working closely with the flight simulation community. We know that they are a very knowledgeable, passionate and committed group of individuals and we welcome their feedback and involvement as we start to create the next generation of games in this area."

"When it comes to licensing our simulation engine, Dovetail Games is the obvious choice for us to work with.  We respect their approach in terms of delivering premium quality simulation games and look forward to seeing their vision of the next chapter in flight simulations unfold," said Kevin Perry, Executive Producer at Microsoft.  "In addition to that, they have repeatedly demonstrated the ability to launch simulation products successfully via online platforms, making them the ideal partner to distribute Microsoft Flight Simulator X: Steam Edition."
Yep, that's right, not only are gamers getting a new Flight Sim, but perhaps the best loved of the bunch is making its triumphant return to PC's. Microsoft Flight Simulator X: Steam Edition will include the Deluxe Edition of the game (Microsoft Flight Simulator X: Gold Edition) and the Acceleration Expansion Pack, all bundled together in one convenient package. It'll be coming up sooner rather than later too as you can expect to see it hitting Steam in the Fall/Holiday time frame.
If you'd like to see more of what's in store for the wild blue (PC) yonder, check out Dovetail Games' official site and keep watching the skies! …and Brutal Gamer of course.