Comic shop staple Previews has been outing awesome stuff for order for a long, long time and the latest issue (which isn't really even out yet) has some seriously cool collectibles from DST.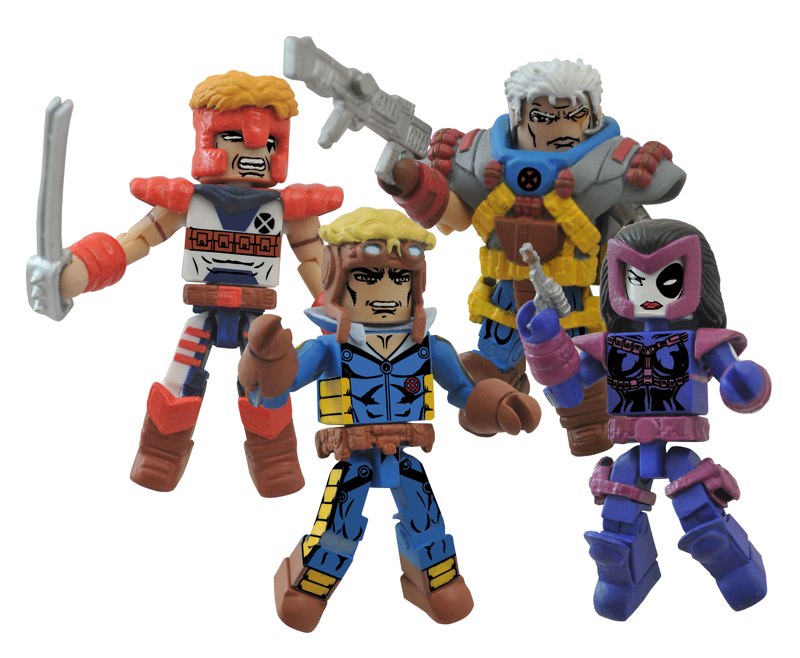 Aliens, The Walking Dead, Batman '66, X-Force Minimates, and… My Little Pony make up the advance solicitations for July's issue of Previews. Now, technically these items aren't really available yet (for pre-order I mean), but since you're scanning them here, feel free to ask your local comic shop about getting your name tagged onto one anyway as it isn't too long till the issue hits anyway.
If you're looking for picks, don't miss the two Minimates sets (Aliens and X-Force) and make sure you check out the blind bag TMNT 'Mates as well (they're super-awesome).
Alien Minimates 35th Anniversary Box Set
A Diamond Select Toys Release! It's been 35 years since Ridley Scott's Alien set a new bar for both science fiction and horror and created a world that still amazes and terrifies us! DST is honoring the film that started it all with a special box set of four Minimates mini-figures, including Ripley, Kane, Parker and the Big Chap hiself, the original Xenomorph! Each fully poseable Minimate stands approximately 2 inches tall and features a variety of interchangeable parts and accessories, including a facehugger alien and the ship's cat, Jonesy! Packaged on a blister card. (Item #JUL142034 SRP: $19.99)

Batman Classic TV Series Batarang Metal Bottle Opener
A Diamond Select Toys Release! An essential item for any utility belt! In the Batman Classic TV Series, the Batarang served a multitude of purposes, from grappling hook to boomerang to cutting tool, and now we've given it another job! This 4-inch solid metal replica of the classic Batarang is actually a bottle opener, using the points and talons of the most famous Bat-tool to pry the cap off of any bottle. With two magnets on the back, it will hang on your Bat-fridge until it's needed! Comes packaged in a full-color slipcase. (Item #JUL142039, SRP: $18.00)

Batman Classic TV Series Robin Vinyl Bust Bank
A Diamond Select Toys Release! They say a good sidekick is worth his weight in gold, but is he worth his weight in pennies? This 8-inch bust of Robin as he appeared in the Batman Classic TV Series is actually a vinyl bank, with detailed sculpting and paint to make it resemble a high-end collectible. With a coin slot on the back and an access door in the base, you'll be saying "Holy savings, Batman!" Packaged in a clear polybag. (Item #JUL142040, SRP: $22.99)

Femme Fatales Lady Death Reckoning PVC Statue
A Diamond Select Toys Release! Lady Death can never die! The perpetually youthful goddess of destruction and decay returns to the Femme Fatales statue line with an all-new look! Based on the cover to Lady Death: The Reckoning #1 (Dark Queen Edition) by Richard Ortiz, this 9-inch PVC statue depicts a new twist on her classic costume, and has her armed with both a sword and a wicked scythe. Standing on a sculpted base, Lady Death will look amazing on her own, or even next to your other Femme Fatale statues! Sculpted by Sam Greenwell! (Item #JUL142038, SRP: $45.00)

Lost in Space Robot B9 Metal Bottle Opener
A Diamond Select Toys Release! The Class M-3 Model B9 General Utility Non-Theorizing Environmental Control Robot is the most important piece of equipment on the Jupiter 2 mission. In addition to running air and soil tests on the planets they visit, it also opens all of their bottles! This 4-inch sculpted metal opener has magnets on the back, so it will stay on your refrigerator or lunar module until you're in danger of getting thirsty! Comes packaged in a full-color slipcase. (Item #JUL142035, SRP: $18.00)

Marvel Minimates Classic X-Force Box Set
A Diamond Select Toys Release! When a job needs to be done and the X-Men are afraid to do it, that's when X-Force steps in! Led by Cable, this team of young mutants is ready to bring the pain, and this box set flashes back to a time when stealth suits were unheard of and pouches were everywhere! The set includes Cable, Domino, Cannonball and Shatterstar, and each fully poseable Minimate stands approximately 2 inches tall and features a variety of interchangeable parts and accessories. Packaged on a blister card. (Item #JUL142036, SRP: $19.99)

My Little Pony Friendship is Magic Applejack Vinyl Bank
A Diamond Select Toys Release! It's a new line of vinyl banks from Diamond Select Toys! My Little Pony is beloved by fans young and old, and now both groups of fans can get a MLP collectible that's just for them! For the older collectors it's a detailed representation of Applejack, with high-quality sculpting and paint applications, but for the younger collectors it's a durable vinyl bank, with a coin slot for change and an access door in the base! And the price is right for everyone! This bank is the first in a series, so get in on the ground floor! Packaged in a clear polybag. (Item #JUL142032, SRP: $22.99)

Teenage Mutant Ninja Turtles Minimates Blind Bag Series 1 Asst.
A Diamond Select Toys Release! The heroes on the half-shell are joining the Minimates family, and we're offering them in a whole new way! Each countertop display contains 18 blind-bagged pouches, and each pouch contains one 2-inch Minimates mini-figure, featuring interchangeable parts and accessories. Each display holds nine different Minimates, including Leonardo, Michelangelo, Donatello, Raphael, April O'Neil, Shredder, Foot Soldier, Footbot and a rare, one-per-case translucent Michelangelo! There's a full set in every case! Designed by Art Asylum! (Item #JUL142033, SRP: $5.99/ea.)

Universal Monsters Metaluna Mutant Vinyl Bust Bank
A Diamond Select Toys Release! The Universal Monsters are not dead yet! This year, Halloween will bring one more vinyl bust bank to join the monstrous line-up, the Metaluna Mutant! Whether you love him from This Island Earth or the Mystery Science Theatre 3000 takedown, he'll make a big impression on your shelf, with high-quality sculpting and paint details. Plus, his brain alone will hold several dollars in change, thanks to the coin slot on his back! Packaged in a clear polybag. (Item #JUL142037, SRP: $22.99)

Walking Dead Michonne's Sword Letter Opener Set
A Diamond Select Toys Release! The bad news: Your mailman is a zombie. The good news: Opening letters just got awesome! This letter opener is a miniature replica of Michonne's sword from The Walking Dead comic book, and its holder is a skewered zombie head. Feel like a hardened zombie killer every time you go to the mailbox! Packaged in a full-color slip case. (Item #JUL142042, SRP: $89.99)

Walking Dead Michonne's Pet Zombie #2 Vinyl Bust Bank
A Diamond Select Toys Release! One pet zombie is cool, but two pet zombies is hardcore! Give your Michonne bank the camoflauge she needs with a second armless, jawless pet zombie bank, featuring detailed sculpting and paint, as well as a coin slot on the back. A completely new sculpt, this walker is the perfect bookend to our first Pet Zombie bank, with Michonne in the middle! Packaged in a clear polybag. (Item #JUL142041, SRP: $22.99)

Offered Again:

Marvel Select Uatu the Watcher Action Figure
A Diamond Select Toys Release! In the massive Marvel crossover event Original Sin, Marvel's heroes mourn the death of Uatu, one of a race of seemingly omnipresent Watchers, sworn to record history with their own eyes. Now, Diamond select is bringing back one of their most popular Marvel Select figures of all! The Watcher stands approximately 9 inches tall with multiple points of articulation atop a sculpted display base. (Item #JUL142045, SRP: $24.99)

Star Trek TNG Enterprise D Electronic Ship
A Diamond Select Release! Designed by Art Asylum! It's the highly demanded return of one of DST's most popular Star Trek ships ever! The U.S.S. Enterprise D, as seen in Star Trek: The Next Generation, measures 16 inches long and has a multitude of working lights, including the deflector and the engines. The saucer section separates from the engines, and both sections come with their own display stands. It also features the voice of Patrick Stewart as Captain Jean-Luc Picard, with real dialogue from the TV show! Comes packaged in a window box with "Try Me" functions. (Item #JUL142043, SRP: $90.00)

Star Trek TNG All Good Things Enterprise D Ship
A Diamond Select Release! Because you demanded it, the "All Good Things" Enterprise-D is back! Based on the ship's appearance in the final episode of Star Trek: The Next Generation, this ship features a third warp nacelle, measures 16 inches long and has a multitude of working lights and sounds. The saucer section separates from the drive section, and both sections come with their own display stands. It also features the voice of Jonathan Frakes as Admiral William Riker, with real dialogue from the TV show! Comes packaged in a window box with "Try Me" functions. (Item #JUL142044, SRP: $90.00)