You know the names already, not get the official fist look at what Activision will be showing off at E3 this week.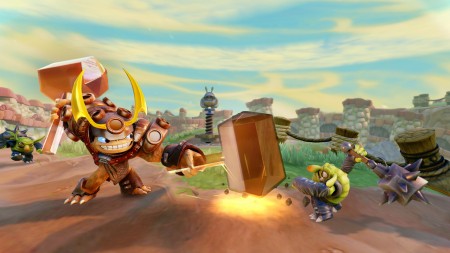 Skylanders and Call of Duty are to of the very biggest names in gaming, bar none. They're also pretty monster plumage in the cap of the publisher. 2014 will be no different than any other calendar year in the last few, as it'll see releases in both franchises. The Skylanders installment for the year will be Trap Team, a game that looks to shake up the formula by offering a new away to play the popular game and the ability to actually play as the villains.
As for Call of Duty, Advanced Warfare might not be the evolution that Trap Team is, but it's nonetheless a very impressive looking shooter that does set the familiar CoD theme in a neat looking futuristic world. And hey, it's got Kevin Spacey and that can't be a bad thing.
The biggest variable for 2014 in Activision's lineup (so far anyway) has to be Destiny though. Still something of a mystery, Destiny is a multiplayer-tilited shooter set in a brand new sci-fi universe from Bungie, the team that birthed Halo. It definitely has that 'Bungie' vibe to it and looks intriguing in it's solar system-wide, planet-hopping premise. Whether it'll have the chop to catch gamer's attention remains to be seen, then again though, this is Activision and Bungie that we're talking about here.
Here's your official rundown on what Activision is prepared to talk about right now, no doubt there'll be a few more little surprises set for reveal during the show.
Call of Duty: Advanced Warfare – Developed by Sledgehammer Games, Call of Duty: Advanced Warfare delivers gamers an immersive and compelling narrative, jaw-dropping visuals and, for the first time in Call of Duty, exoskeleton gameplay that will redefine how people play the game.  Players become the advanced soldier enabled with the power of the exoskeleton, an advanced arsenal of never-before-seen weaponry, new abilities and new gameplay mechanics. The first Call of Duty to benefit from a three-year development cycle, Call of Duty: Advanced Warfare is built specifically for the next generation consoles.  The game takes place in a future setting that immerses players into an emotional journey with a new cast of characters poised to set a new bar for the franchise.  The title is scheduled for release on November 4 for Xbox One, the all-in-one games and entertainment system from Microsoft, the Xbox 360 games and entertainment system from Microsoft, PlayStation®4 computer entertainment system, PlayStation®3 computer entertainment system and Windows PC; not yet rated by the ESRB.  For more information, visit: www.callofduty.com, www.facebook.com/callofduty,www.youtube.com/callofduty or follow @CallofDuty on Twitter and Instagram.

Destiny – From Bungie, the creators of Halo®, and Activision, the company that brought you Call of Duty, comes Destiny, the next evolution in interactive entertainment and an epic adventure unlike anything players have experienced. Destiny delivers a new way to play first-person action games in a story-driven universe, with a saga that unfolds through grand tales and epic adventures that immerse players in a bold new world filled with cooperative, competitive, public, and social activities, all seamlessly connected. In Destiny, fans become Guardians of the last city on Earth, able to wield incredible power and explore the ancient ruins of our solar system from the red dunes of Mars to the lush jungles of Venus. Gamers must battle humanity's enemies and reclaim all that was lost during the collapse of mankind's Golden Age. The game will be available onSeptember 9 for the PlayStation®4 system, PlayStation®3 system, Xbox One, the all-in-one games and entertainment system from Microsoft and Xbox 360. For more information, visit www.DestinyTheGame.com. For exclusive updates, follow the official Destiny social channels at www.facebook.com/DestinyTheGame and @DestinyTheGame on Twitter, and interact directly with the developers atwww.Bungie.net.

Skylanders Trap Team – Developer Toys for Bob, creators of the Toys-to-Life™ phenomenon, return with another exciting innovation with Skylanders Trap Team. The newest installment to the Skylanders franchise will reverse the magic of bringing toys-to-life, letting kids take characters out of the digital world and bring them into the physical world. In Skylanders Trap Team, Portal Masters seek out and defeat the most wanted villains in all of Skylands, pulling them out of the game and into living rooms by capturing them in Traps. Players can then send villains back into the game where they play as them to fight for good. Skylanders Trap Team will include the Traptanium Portal™, a new ring of magical energy that enables kids to not only bring their Skylanders to life, but also capture villains using the new Traps. Skylanders Trap Team introduces new heroes known as Trap Masters and will be available on October 5 in North America for Xbox One and Xbox 360 games and entertainment systems from Microsoft, PlayStation®4 system, PlayStation®3 system, Nintendo's Wii™ system and Nintendo's Wii U™ system. A completely unique adventure will be available on the Nintendo 3DS™ hand-held system.