If you're a fan of The Legend of Zelda and Dynasty Warriors, you're going to love this.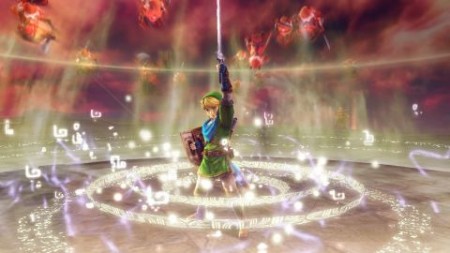 It might seem like a kind of a strange mix when you first hear it, I know I thought it was a bit off, but it looks like Dynasty Warriors and the Zelda universe are mixing very nicely indeed. Seen in the new volley of screenshots are Link, a piece of concept art showing some of the story behind the battlefield-based action, and Hyrulean Captain of the Guard Impa.
For the first time in series history, Impa is a playable character, which is a pretty big deal when your talking about The Legend of Zelda. The story is a big deal too as there's a new villain called Cia, an evil sorceress out for some Hyrule conquering action. Nintendo is also promising many more playable characters from throughout the Zelda franchise in the game, each with their "signature weapons and action animations."
In addition to the new tidbits on the characters and who's set to be playable, Nintendo also released some info on the first level of the game, and how the overall story will be played out in the game.
The first stage of the game takes place in Hyrule Field, a location that will be very familiar to fans of The Legend of Zeldaseries. The game-play structure of most of the stages bears a close resemblance to the Dynasty Warrior games, so Hyrule Warriors is a game that can truly be enjoyed by fans of both The Legend of Zelda and the Dynasty Warrior series. Players must defend or reclaim areas by fighting against hordes of enemies and using different types of flashy and powerful moves. Players will encounter new enemies such as Sorceress Cia, but some familiar enemies like Bokoblins and Lizalfos from The Legend of Zelda series will also appear in the game.
No release date for Hyrule Warriors as of yet, but you can keep up to date by checking back here at BG or having a peek at the official site of the game, which you can find here.