Touted as one of the biggest months ever for Diamond Select Toys, and with 17 monster items up for pre-order, it just might be.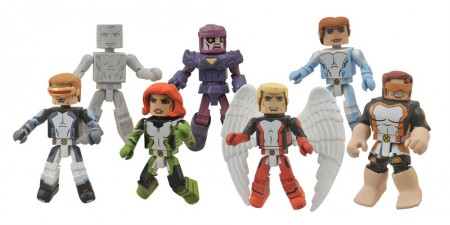 Whether you're a comic book fan, a game fan, are into movies, or anything in between; Diamond has you covered with something for you to get excited about in May. Personally, I'm a big Minimates guy, so there's a ton for me to plunk my cash down for this month, including that awesome All-New X-Men set. All this good stuff is available now in pre-order for, at your local comic shop- so order up true believer!
…And for god's sake, if you missed out on that Marvel Select Venom the first time around, get it now! Seriously, that thing's all kinds of awesome.
Pulp Fiction Jack Rabbit Slim's Pint Glass
A Diamond Select Toys Release! The next movie to get the Reelware treatment from DST is Quentin Tarantino's groundbreaking film Pulp Fiction! Celebrating the film's 20th anniversary, DST is taking fans inside the world of the movie with a 16-oz. pint glass from the famous Jack Rabbit Slim's restaurant. Whether you fill it with a five-dollar milkshake or another tasty beverage, the Jack Rabbit Slim's logo will always remind you of the first time you watched Vince and Mia do the twist. Packaged in a window box. (Item #MAY142227, SRP: $10.99)

Marvel Retro Spider-Man Limited Edition Action Figure Box Set
With every new "Cloth Retro" figure release, demand for Marvel Comics-based retro figures has grown, and now DST is making the toys everybody has been asking for! The Marvel Cloth Retro line will capture the nostalgia of the 1970s and add a modern-day spin in a series of limited edition 8-inch figures.  The line kicks off with none other than the Amazing Spider-Man! Spidey will feature a real cloth costume based on his original 8″ release, as well as easily interchangeable additional heads, hands, outfits and accessories to turn him into Daily Bugle photographer, Peter Parker, or a more modern comic version of the wall-crawler! The "throwback" outfit will come on a standard retro-style body in a reproduction box based on the classic packaging.  The additional outfits and parts will come packaged on a display tray, along with a miniature booklet outlining the history of the character. Spider-man, and future releases in the line, will be limited to only 3,000 sets, so get on board now! Designed and sculpted by EMCE Toys! (Item #MAY142225, SRP: $80.00)

Plants vs. Zombies: Garden Warfare Yeti Bank
A Diamond Select Toys Release! Save up for a new weed-whacker with this new vinyl figural bank based on the new Plants vs. Zombies game from Popcap and EA! The Yeti is the big man in the zombie army, and he's all set to stomp some plants, but good. This 7″ vinyl bank has a coin slot on the back, an access door down below, and is totally in scale to your Garden Warfare Select action figures, making him an integral part of any suburban assault!  (Item #MAY142234, SRP: $22.99)

Amazing Spider-Man 2 Movie Spider-Man Resin Bust
A Diamond Select Toys Release! Thwip! The new Spider-Man movie has fans buzzing like flies in a web, and the web-slinger is getting a brand-new bust from DST! Depicting Spider-Man in his trademark crossed-arms web-shooting pose, this bust measures approximately 6 inches tall with its web-festooned base, and is a great addition to any fan's shelf! Sculpted by Gentle Giant! (Item #MAY142220, SRP: $59.99)

Amazing Spider-Man 2 Movie Green Goblin Resin Bust
A Diamond Select Toys Release! The new movie Green Goblin has been revealed and he is one creepy customer! Spider-Man's most famous foe has gotten a cinematic makeover, and now DST is capturing the new look in this collectible bust! Measuring approximately 6 inches tall atop its base, this bust of the classic Spidey villain is a must-have for any fan of the franchise. Sculpted by Gentle Giant! (Item #MAY142221, SRP: $59.99)

Godzilla Classic Minimates Series 1 Box Set
A Diamond Select Toys Release! What's the best way to stop a towering atomic monster? Put him in your pocket! Celebrating 60 years of Godzilla movies, this box set of classically-styled Minimates includes Godzilla and three of his most famous friends and foes: Mothra, Gigan and Titanosaurus! Each Minimate mini-figure stands approximately 2 inches tall and features a variety of interchangeable parts. Packaged on a blister card. Designed by Art Asylum! (Item #MAY142232, SRP: $19.99)

Star Trek III Phaser Electronic Role-Play
A Diamond Select Toys Release! Don't search for Spock unarmed – carry the famous phaser first seen in the third Star Trek movie! With a removable Type 1 "cricket" phaser and a Type 2 pistol grip, this instantly recognizable Starfleet-issue weapon features realistic lights and sound effects straight from the movies. It's the latest advancement on role-playing technology! Comes in "Try Me" packaging. (Item #MAY142236, SRP: $39.99)

Marvel Minimates Series 58 X-Men: Days of Future Past Asst.
A Diamond Select Release! The newest and most epic X-Men movie ever made is getting the Minimates treatment from DST! Four different two-packs depict the past and future worlds of X-Men: Days of Future Past, featuring Future Professor X with Past Magneto, Future Magneto with Past Mystique, Future Wolverine with Future Storm and Past Logan with Past Charles Xavier. Each Minimates mini-figure stands 2 inches tall with 14 points of articulation and features a variety of interchangeable parts and accessories. Designed and Sculpted by Art Asylum! (Item #MAY142223, SRP: $9.99/ea.)

Marvel Minimates Series 59 All-New X-Men Asst.
A Diamond Select Toys Release! The five original X-Men have been brought to the present day, and a new decade calls for new costumes! This assortment based on the Marvel Now! comic title All-New X-Men features four two-packs, including Cyclops with Marvel Girl, Beast with Angel, Iceman with a Sentinel and a rare, short-packed Bobby Drake with Sentinel! Each Minimate mini-figure stands approximately 2 inches tall and features a variety of interchangeable parts and accessories. Designed by Art Asylum! (Item #MAY142224, SRP: $9.99/ea.)

Ghostbusters Toasted Mr. Stay-Puft Vinyl Bank
A Diamond Select Toys Release! Nobody steps on a church in our town! DST has taken their popular 11-inch bank of the Stay-Puft Marshmallow Man from Ghostbusters, put it on a large stick and held it over a roaring fire to create this scorched, battle-damaged edition! With a coin slot in the back and a removable head that hides an access door, this bank is a mouth-watering addition to any Ghostbusters collection! Designed by Art Asylum! (Item #MAY142237, SRP: $29.99)

Aliens Pulse Rifle Metal Bottle Opener
A Diamond Select Toys Release! Colonial Marines are trained in a variety of weapons, from flamethrowers to grenade launchers, but how do they open bottles? If we had to guess, it would be with the Pulse Rifle Bottle Opener from DST. Measuring just under 4 inches long, this all-metal opener has magnets on the back, so you can slap it on the door of your Armored Personal Carrier for rolling refreshment! Game over, man! Packaged in a collector box with a full-color wrap. Designed by Art Asylum! (Item #MAY142235, SRP: $18.00/ea.)

Clerks Minimates 20th Anniversary B&W Box Set
A Diamond Select Toys Release! These Minimates aren't even supposed to be here today! It's the 20th anniversary of Clerks, the legendary first movie by the godfather of geeks, Kevin Smith, and DST is celebrating with a box set of four Minimates! Dante, Randal, Jay and Silent Bob are each lovingly rendered in black-and-white, standing approximately 2 inches tall with a variety of interchangeable parts and accessories. Packaged on a blister card. Designed by Art Asylum! (Item #MAY142230, SRP: $19.99)

Walking Dead Minimates Series 6 Asst.
A Diamond Select Toys Release! Welcome to the Community! The sixth series of Minimates mini-figures based on the best-selling Walking Dead comic book series brings the cast to the walled compound that would become their home following the fall of the prison. Two-packs include Constable Rick with Douglas, Carl with Burning Zombie, Constable Michonne with Winter Zombie and a rare, one-per-case variant set of Party Dress Michonne with Winter Zombie. Each Minimate mini-figure stands approximately 2 inches tall and features a variety of interchangeable parts and accessories. Designed by Art Asylum! (Item #SRP: $9.99/ea.)

Teenage Mutant Ninja Turtles Michelangelo Metal Bottle Opener
A Diamond Select Toys Release! Wash down that slice of pizza with a brand-new metal bottle opener from DST! Measuring about 4 inches tall, this classically-styled opener depicts the Turtles' resident foodie Michelangelo dining on his snack of choice, and features magnets on the back for refrigerator door display. Cowabunga! Packaged in a collector box with a full-color wrap. Designed by Art Asylum! (Item #MAY142229, SRP: $18.00)

Teenage Mutant Ninja Turtles Michelangelo Pizza Cutter
A Diamond Select Toys Release! Each of the Ninja Turtles wields his own signature weapon, but there is one weapon shared by them all: the pizza cutter! Designed to resemble Michelangelo's grinning head, this kitchen accessory can spell victory or defeat for the TMNT, so be sure you have one on hand to help feed the entire clan! Packaged in a full-color collector box. Designed by Art Asylum! (Item #MAY142228, SRP: $14.99)

Godzilla Classic Mechagodzilla Vinyl Bust Bank
A Diamond Select Release! Godzilla's greatest foe is launching his attack! A cybernetic copy of Godzilla with superior firepower, this vinyl bust bank of Mechagodzilla is based on how the robotic kaiju appeared in 1974's Godzilla vs. Mechagodzilla. Standing 8 inches tall, the bank features a coin slot in his back, as well as an access door in the base. Sculpted by Gentle Giant Studios!  (Item #MAY142233, SRP: $22.99)

Best of Marvel Minimates Series 3 Asst.
A Diamond Select Release! The best Marvel Minimates DST has ever made are back for a third series! Four more two-packs of Marvel's most famous heroes get the ultimate Minimate treatment, including Marvel Now Captain America with Modern Spider-Man, Transforming Grey Hulk with Extremis Iron Man, Classic Hawkeye with Lab Coat Ant-Man and Luke Cage Power Man with Iron Fist! Each Minimates mini-figure stands 2 inches tall with 14 points of articulation and features a variety of interchangeable parts and accessories. Designed and Sculpted by Art Asylum!  (Item #MAY142222, SRP: $9.99/ea.)

Offered Again: Marvel Select Venom Action Figure
A Diamond Select Release! Marvel Select collectors have been clamoring for it, and we're giving it to them — a new production run of the classic Spider-Man villain Venom! Depicting the original Venom, Eddie Brock, this symbiotic Spidey foe stands over 8 inches tall with 16 points of articulation, and comes packaged with interchangeable heads, hands and more, to depict the anti-hero in numerous looks from his long history! Comes in the famous Select display packaging, with spine artwork. Sculpted by Jean St. Jean!  (Item #AUG121762; SRP: $24.99)