In an unexpected announcement earlier this morning, Microsoft announced that consumers will be able to purchase a new Xbox One console, that does not include the Kinect sensor, for $399 USD (£349 in the UK), which gives it the same price point as Sony's PS4.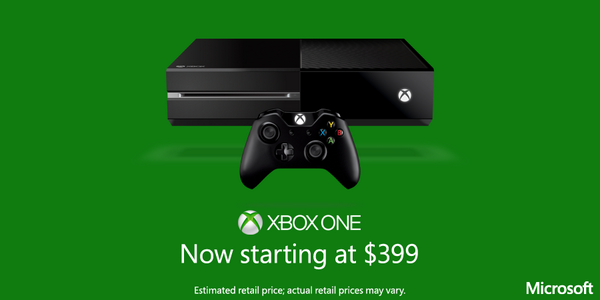 Starting June 9, retailers will start selling basic Xbox One consoles that do not include the Kinect sensor. If, at a later date you wish to purchase the Kinect separately, Microsoft will sell them individually later this fall. There has not been a price for the individual Kinect announced as of yet.
Microsoft also announced that Games with Gold is coming to the Xbox One in June. It will still be supported on the Xbox 360, for those who do not yet own the new console. The free games for the Xbox 360 this June are Dark Souls, Charlie Murder, and a bonus game to celebrate the one year anniversary of Games with Gold, Super Street Fighter IV: Arcade Edition. For the Xbox One, the two free games for June are Max: The Curse of Brotherhood and Halo: Spartan Assault.
Deals with Gold is also coming to the Xbox One this June, offering 50-75 percent off selected titles. The first discounts offered include Forza 5 and Ryse: Son of Rome, along with a few surprises, according to Microsoft. Microsoft is also launching a virtual VIP room exclusive for Xbox Live Gold members. Perks include free games and monthly deals, with other great benefits not yet announced.
Regardless of whether you have a Gold membership, you will still be able to access any of the apps either of the consoles have, including Netflix, Twitch, Youtube, NFL for Xbox One, NBA Game Time, and Internet Explorer.
All of these features will be available starting June 9.