Making the jump form the small screen to the printed page.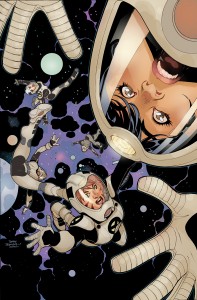 Arrow Executive Producer Mark Guggenheim is coming to Marvel, but not as a part of their growing TV lineup on ABC. In the midst of a very successful stint on the hit show Arrow, Guggenheim is moving into the comics world with X-Men #18 for a four-issue story arc that sees the return of an old enemy for the X-Men and a return once again to the final frontier.
High above the Earth in the floating space station known as The Peak, extraterrestrial threats are monitored by S.W.O.R.D. – the planet's alien counterterrorism and intelligence agency. From the cold reaches of space, a familiar face returns. The ferocious Shi'Ar warrior Deathbird has landed on their doorstep, gravely wounded and inches from death. Unable to identify the who or what that caused her life threatening injuries, the X-Men are called in to investigate!

Speaking with Paul Montgomery at Marvel.com, Guggenheim shared where the idea for his upcoming arc originated: "The idea really came from the fact I'd been jonesing for an X-Men in space story as a reader. I'd been re-reading the Brood Saga and it reminded me how much I love that concept of the X-Men in outer space. It's a milieu that suits them really well."

What horrible dangers await Rachel Grey, Storm, Jubilee, Psylocke and Monet in the cold, lifeless vacuum of space? And are they equipped to handle it? Don't miss the start of an epic sci-fi horror tale as Guggenheim takes the reins this August in X-MEN #18!
I've always liked the X-Men in space and the relationship with the Shi'ar (who were heavily featured recently in All-New X-Men), so this suits me just fine. Plus, any chance to see some old faces in the X-universe is a great thing. Especially since the book, on the whole, have been shaking so much up as of the last decade or so.
Look for X-Men #18 to rocket into stores this August.