A special edition of Lovecraftian horror game The Last Door, adding new content and enhanced graphics, is heading to the computer.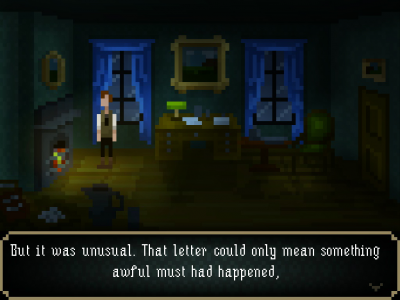 Something awful? Yeah, probably. The Last Door is an adventure inspired by the famed wrks of horror/bizzarro writer H.P. Lovecraft and his Cthulhu mythos of old gods and vengeful monsters from the great beyond. The Last Door: Collector's Edition features all four chapters of the original game release plus "exclusive new content and unlockable bonuses".
Gamers can expect new puzzles, scenes, and story elements along with a new upgraded look for the still very much low-res, old-school adventure title.
"The Last Door Collector's Edition represents a great milestone in the trajectory of the project since it represents the fruit of more than a year of hard work and efforts," says Mauricio Garcia, Project Manager. "We feel ourselves really lucky to partner with a publisher like Phoenix Online that seeks to bring indie-developed games that focus on rich storytelling and atmosphere to the worldwide market, and this philosophy perfectly matches the one behind our beloved game."
Keep your wits about you, The Last Door Collector's Edition is set to arrive on Steam, GOG, and "other major online retailers" for Windows PC, Mac and Linux onMay 20th.