In this newest batch of screenshots released by Spiders Studio for their upcoming action/RPG Bound by Flame, we get a look at some of the potential results of choice in the game- both of the good and bad variety.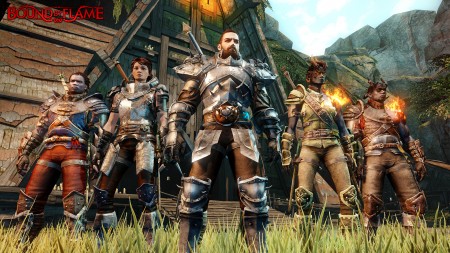 As you can see in the image above, Bound by Flame's flame demon can seriously take its tole on the player character. If you're out of the loop on this one, the demon is possessing the main character in the game, twisting the mercenary to its way of thinking as you progress. If you use too much of the extremely tempting  power that the demon offers you, well, you kind of become the flame demon. Or a reasonable facsimile.
The game's customization level is also something that Spiders is particularly proud of. Building your merc starts before you begin your adventure, like in very other action/RPG out there, but it doesn't stop till the credits role…
You therefore play a mercenary of the Freeborn Blades, who is possessed by a flame demon at the start of the adventure. When you start a new game, you are free to choose your character's look: gender (which will affect some of the dialog, particularly with companions and potential romances), facial features, ethnicity and hairstyles.

But your character customization doesn't end there; you will find and create new items of armor during your quest using the ingenious in-game crafting system. Not only will this have an impact on your combat tactics using the bonuses you have been granted but it will also alter your appearance, because each armor item can be customized with various extras, i.e. shoulder pads, knee pads and a range of other protective features, each having a particular style. The combinations are infinite, so each character will be unique!

Last but not least, you will be faced with many choices and dilemmas during your adventure. Depending on your decisions, you can perform heroic actions to reject the demon's influence or be consumed by the power of the flame by allowing yourself to be controlled by the demon's will. This demonic influence will be shown in the different stages of your transformation, and you will become increasingly demonic and less human! These screenshots illustrate all this using a selection of characters you can create and play in Bound by Flame!
Bound by Flame is set to heat things up on the PS4/3, Xbox 360, and PC on May 9th.