The five-man development team's game scorches its way through its crowd-funding platform campaign with 500% of its original goal.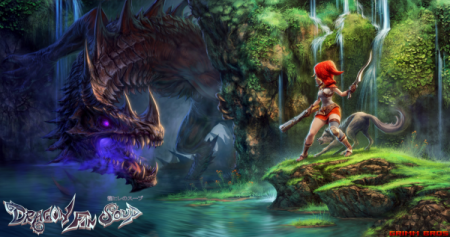 Apparently, people are really in the mood for a good Dragon Fin Soup, because the Ladstalker-like action/RPG just scored big in its Kickstarter campaign to the tune of $119,719.00 USD gained from some 4,044 backers. That's a big deal in and of itself, but when you consider that the game's makers were only looking for $24k originally, it makes the story a lll that much better.
"The kickstarter campaign for Dragon Fin Soup has been a real rollercoaster of emotions. Our initial expectations were blown away, by an awesome community of backers who allowed us to quickly reach our funding goal and then supercede it", said Grimm Bros CEO, Ash Monif. "We are excited that our concept hit a sweet spot with so many gamers out there and we look forward to delivering our vision in 2014".
More than just a cookie-cutter hack'n slash though, Dragon Fin Soup is a really neat tale set in a word of Fairy Tales and is purposely modeled after classic console games. The title features a pretty unusual main character too- it's Little Red Riding Hood… but as a 'raging alcoholic', which I think you;ll admit is pretty original. Blasting through that Kickstarter goal has allowed for  some cool bonuses as well. Gamers can expect to see "endless labyrinth mode, Asian weapons pack and clothing sets, the sheep quest, and playable skeletons in survival and labyrinth mode" in addition to the originally announced base game.
If you backed the game, you're in for some treats too, depending on which level you clocked in at. "Rewards for backers include limited edition music boxes, art books, plushies, t-shirts, art prints, engraved crystals and hand-drawn illustrations." Expect to see Dragon Fin Soup available on digital storefronts some time later this year.